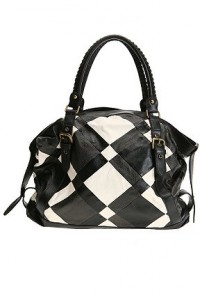 Regardless of your budget, there are certain things that you simply cannot exclude from your wardrobe. Shoes and purses are two of our main obsessions. When it comes to bags, it really doesn't matter if it is from the thrift store or a designer. We will go on a whim here, and consider that you are not part of the Hilton family, so let's take a look at the cream of the crop in trending buys, at a price that suits every woman's wallet.
First and foremost, when buying a bag, you must understand that no matter how beautiful it is, if you can't fit all your crap in it, it's not that useful. Obviously, small clutches, and mini-purses, like the Reef pocket book, are cute and useful when it comes to matching them to an outfit for a night on the town. At other times, though, you just need an oversized bag, so here are our top five picks for business women on the go:
1. Parquet Buckle Bag by Urban Outfitters
Our number one pick is a daring brown and white (or black and white) checker patterned oversized buckle back that looks a lot like a vintage treasure. Not only is it extremely spacious, but it will also make you look extremely stylish. The conservatory design is a perfect match fur business outfits.
2. Bridle Chrome Large Bowler
The Bridle Chrome Large Bowler bag may be three times the price of our first choice, but it has a lot more "bling". Considering that metallic clothes and accessories have been extremely hot this season, you might want to choose a bag like this one. MAXX New York has created a delightful deep gold bag, with a great interior, with three compartments. It may not be your style, but for such a lovely price, you could at least try it on for size.
3. Snake Embossed Deep Satchel
I've always been a fan of Banana Republic, especially because they create great bags at decent prices. The Snake-Embossed Deep Satchel costs approximately 250 dollars, but it is definitely worth the investment, especially considering that faux snake leather will always be in style. On the inside, the bag has a lot of extras like a cell phone bag, and separate compartments.
4. Tassel Tote Satchel, White
There is an oversized model that will suit even the shy suburbia mom. The Dooney & Bourke "Tassel Tote Satchel" was designed with practicality in mind. It has a simple white designed with colorful logo prints all over, and a pretty bow. It is perfect for running errands, or going to school, and it will also help you look great in the meanwhile.
5. Isabel Popcorn Sweater Bag
To be completely honest, I am not a fan of this particular bag, but it is the cheapest from the list (approximately 35 dollars), and it gets the job done. Apparently, sweater weaves have been a huge trend in the fall, and we suspect that they will continue to be throughout winter and spring. This hand-knitted Delia's bag is large enough to include all of the essentials in it.
We hope that these oversized bags are to your liking, and remember, a business woman will never be able to carry all her important stuff with her if she her purse is too small.