Comfort food doesn't get much cozier than a piping hot bowl of mac and cheese. This beloved dish is a classic staple in many households, cherished for its nostalgic appeal and heartwarming qualities. Mac and cheese is the ultimate comfort food, offering a perfect balance of creamy, cheesy, and indulgent goodness.
At the heart of this dish is the creamy cheese sauce, made from a combination of cheeses blended with milk, and a pinch of salt and pepper. The sauce coats every nook and cranny of the al dente macaroni, creating a harmonious marriage of flavors and textures. It's pure comfort in a bowl, bringing a feeling of warmth and contentment with each bite.
Mac and cheese has a universal appeal, from children to adults, and it's often the go-to meal when you crave something soothing and familiar. Whether you enjoy it as a side dish, a main course, or even with creative add-ins like crispy bacon bits or sautéed vegetables, mac and cheese has a special place in the hearts and stomachs of many, making it a timeless and cherished comfort food favorite.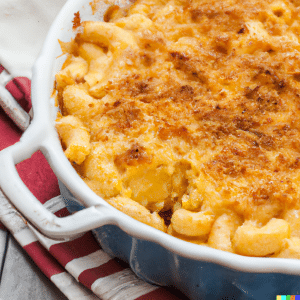 Gouda, Cheddar, and Parmesan Macaroni and Cheese Recipe
Indulge in the ultimate comfort food with this rich and creamy Gouda, Cheddar, and Parmesan macaroni and cheese. This recipe combines the nutty flavors of Gouda and sharp Cheddar with the umami goodness of Parmesan to create a cheesy sensation that's hard to resist.
Ingredients
8

oz

elbow macaroni or pasta of your choice

2

tbsp

butter

2

tbsp

all-purpose flour

2

cups

milk

whole milk or 2% recommended

1 1/2

cups

Gouda cheese, shredded

1

cup

sharp Cheddar cheese, shredded

1/2

cup

Parmesan cheese, grated

salt and pepper to taste

pinch of cayenne pepper

1/4

cup

breadcrumbs

optional, for a crispy topping

chopped fresh parsley for garnish

optional
Instructions
Cook the macaroni or pasta according to the package instructions until al dente. Drain and set aside.

In a large saucepan or skillet, melt the butter over medium heat. Add the flour and whisk constantly for about 1-2 minutes to create a roux. It should be smooth and light golden in color.

Gradually pour in the milk while continuing to whisk. Cook the mixture, stirring constantly, until it thickens, usually about 5-7 minutes.

Reduce the heat to low, and add the shredded Gouda, Cheddar, and grated Parmesan cheeses. Stir until the cheeses are completely melted and the sauce is smooth. If desired, add a pinch of cayenne pepper for a hint of spiciness. Season with salt and black pepper to taste.

Add the cooked pasta to the cheese sauce and stir until the pasta is well coated.

If you'd like a crispy topping, preheat your oven's broiler. Transfer the macaroni and cheese to an oven-safe dish, sprinkle breadcrumbs evenly over the top, and place it under the broiler for1-2 minutes, or until the breadcrumbs are golden brown. Watch carefully to prevent burning.

Serve the Gouda, Cheddar, and Parmesan Macaroni and Cheese hot, garnished with chopped fresh parsley if desired.
This macaroni and cheese recipe is a celebration of three delicious cheeses, creating a dish that's both decadent and comforting. Whether it's a side dish at a family gathering or the star of your dinner table, this creamy delight will have everyone asking for seconds. Enjoy the irresistible blend of Gouda, Cheddar, and Parmesan in every bite!
Summary
Recipe Name
Gouda, Cheddar, and Parmesan Macaroni and Cheese Recipe
Published On