Halloween is the perfect time of the year to let your creativity run wild and transform your home into a haunted wonderland. Whether you're hosting a ghoulish gathering or simply want to immerse yourself in the eerie spirit of the season, there are countless decoration ideas to turn your space into a spooky masterpiece. In this article, we'll explore a variety of Halloween decoration ideas that will help you create a chillingly fantastic atmosphere for the holiday.
Hauntingly Beautiful Front Porch
The entrance to your home is the first place to set the stage for a spine-tingling experience. Decorate your front porch with carved pumpkins, flickering candles, and spider webs. Add a fog machine to create an eerie mist, and don't forget to have a welcoming Halloween-themed doormat. A life-sized skeleton or zombie prop can be a fantastic touch to greet your guests with a scare.
Bewitching Balcony or Windows
For those living in apartments or homes with balconies, consider adorning it with a spooky theme. Hang Halloween lights, witches' brooms, and black cat silhouettes. You can also decorate your windows with creepy silhouettes, ghostly draperies, and "Help Me!" messages scrawled in fake blood for an extra eerie effect.
Creepy Crawlies Inside
Transform your living room or any chosen indoor space with a variety of spooky decor elements. Place black candles in antique candleholders, drape fake spider webs across furniture, and scatter plastic insects, rats, and other creepy crawlies around the room. Create a witch's cauldron centerpiece or invest in a haunted mirror that reveals eerie apparitions when the lights go out.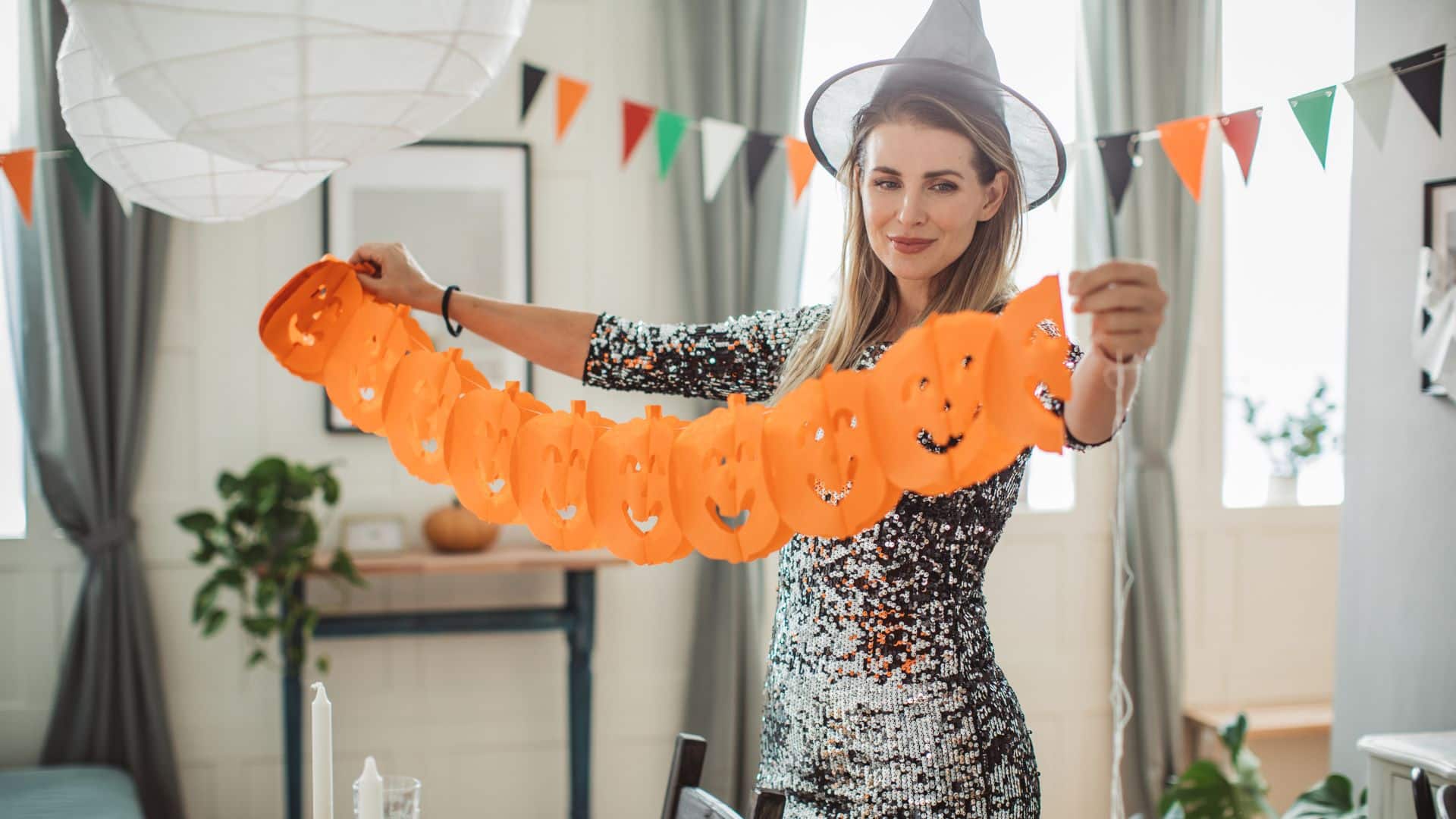 Frightening Foyer
Your foyer sets the tone for the entire home. Use this area to create a spooky atmosphere. Hang ghastly portraits with moving eyes, place a fog machine near the entrance, and set up a coffin or crypt-like entryway. This will instantly make your guests feel like they're entering a haunted mansion.
Jack-o'-Lantern Extravaganza
Pumpkins are a staple for Halloween decoration ideas, and there are countless creative ways to display them. Carve intricate designs, scary faces, or even famous horror movie characters onto your pumpkins. You can also paint them in eerie colors and arrange them in groups with varying sizes to create a captivating display. If you're looking for a mess-free option, consider using artificial pumpkins, which can be used year after year.
Enchanted Garden
If you have a garden, don't neglect it when decorating for Halloween. Set up tombstones, skeleton arms reaching out of the ground, and create a graveyard scene. Incorporate outdoor Halloween lights for an eerie glow. You can even add eerie sound effects or prop ghosts that move in the wind.
Spooky Dinner Table
Elevate your Halloween party by transforming your dining table into a macabre masterpiece. Use black or dark-colored tablecloths, skull or spiderweb placemats, and blood-red dishes. Illuminate the table with black or orange candles and incorporate creepy centerpieces like a cauldron of "witches' brew" or a ghoulish floral arrangement.
DIY Decorations
Get your creative juices flowing with DIY Halloween decorations. Craft your own paper bats, ghosts, and witches to hang from the ceiling or walls. Create a sinister-looking wreath for your front door using twigs, black feathers, and plastic spiders. DIY decorations add a personal touch and allow you to tailor your decor to your unique style.
Halloween is all about embracing the spooky and the eerie. With these Halloween decoration ideas, you can turn your home into a frighteningly fun space for the holiday. Whether you prefer a classic haunted house vibe or a more whimsical, family-friendly atmosphere, there are countless ways to get creative and make your home the ultimate Halloween haven. So, unleash your inner witch or wizard, roll up your sleeves, and start decorating to make this Halloween one to remember!
Check out our post on Fall Decorating Ideas for additional tips in preparing your home for Halloween!