The 5 Longest Roads In The World
Most of us own a car these days and driving along roads is something we tend to take for granted. It is generally a means to an end. The average road journey could take anything from a few minutes to a few hours but there are roads in the world where this could easily be extended to days or even weeks. So to reflect this fact, we have created a list of 5 of the longest roads in the world.
Pan American Highway
Let's start with a really big one. This road takes in territories of North America, Canada and Mexico. It is so huge that the distance has been calculated at a massive 16,000 miles. If you're travelling as part of a road trip then it's ideal. If not, then it's perfect to catch up on your memoirs or read those books you've been promising yourself. That is assuming you are a passenger and not driving. Notable points on the route include the Darien Gap which is over 50 miles of rainforest.
Australia Highway 1
On the other side of the world, there is a road which makes the M1 look like a 400m athletics track. Connecting the whole of Australia, this road is guaranteed to get through all your CD collection as it will take in all of the main capitals on the continent. The 9000 miles circumnavigate the entire outer edge of the country. The scenery will be quite spectacular so your swanky new SLR will be put to great use.
Trans Siberian Highway
Not quite as long but equally impressive, this road actually extends the length form one Ocean to another, namely the Baltic and the Pacific. Connecting the cities of St. Petersburg and Vladivostok, it is the country's largest road by far. This is probably also one of the coldest roads in the world so you might want to make sure you carry a few extra blankets and a spare battery. The road has a total length of 6,800 miles with some sections of it being mere dirt tracks.
Trans Canada Highway
This road is not as long as the Pan American Highway but is long enough to pass through five different time zones and ten provinces. The road starts form Vancouver Island and ends in St. John's, Newfoundland. Breathtaking scenes are what the traveller can look forward to on this gem of a route. Here you'll pass through The Rockies and Banff National Park. The total distance is just under 5000 miles and was completed in 1970.
Tarim Desert Highway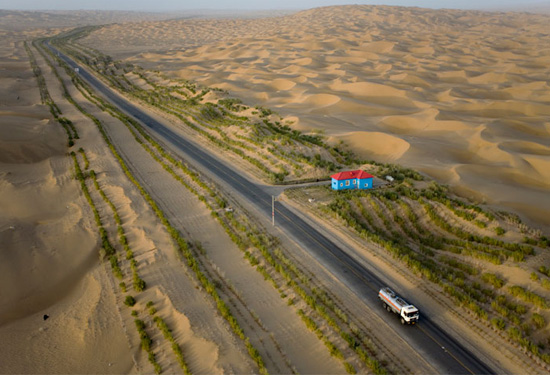 You really don't want to break down on this one as its long and there isn't very much in the way of facilities. It's not the longest in terms of the length of the others on this list but considering it's mainly surrounded by sand dunes, it will seem so much longer. It connects the two cities of Luntai and Minfeng. 280 of the 345 miles of road is totally uninhabitable, so not a great deal to see.
Many thanks to Sixt.co.uk for producing this interesting guide; consider venturing outside your comfort zone and hop on board a long haul flight to visit these road wonders of the world!