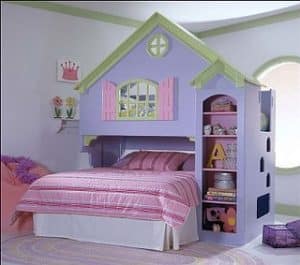 Raising children naturally makes you creative. The right colors and arrangements of veggies on a plate take the argument out of lunch. Designing activities that only come after a good nap gets them down for a little rest. It's fun to pick up the toys because you've turned it into a game. Apply that same imagination to decorating their playroom, and you'll come up with wonderful creative ideas.
Create Color and Space
More often than not, the kids' bedroom is also their personal play space. You can't push the walls back, so push the beds against the wall. This frees up the center area for all kinds of possibilities. A group of small tables in the middle of the room turns into a staging area for art projects and tea parties. Little chairs that seat toddlers and their older siblings let the children gather round and share their fun. Keep the hues on the walls light, and let those primary colors loose on the furniture. Splash reds, greens and blues on the doors and trim. Toss a cheerful throw rug under the table to pull it all together, and you create a space that feels big, bright and inspiring with plenty of room to share.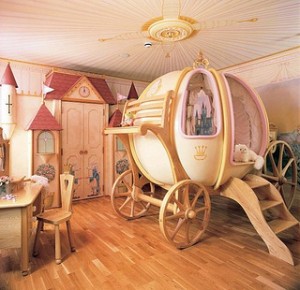 Design Smart Storage
Toddlers' toys don't enjoy hiding under the bed with dust bunnies, and closet shelves are out of reach for little hands. Creative storage does double duty; it cuts down on clutter while it inspires your inner designer. Mount a small piece of peg board on the wall, and give it a bright coat of paint. Use contrasting stripes to give each child a personal area for draping everything from tiny princess totes to superhero capes. Repurpose hanging shoe bags, and make them toy-friendly with a little fabric paint. Cut an old bookcase into sections, cover it with colorful adhesive paper, and you have several sets of floor shelves that even toddlers can fill up. Take a good look around the house. Smart storage for the kids' room is hiding in plain sight.
Listen to the Toys
If you listen, toddler toys will talk to you. Pay attention to their color schemes, and you'll discover unique combinations that work beautifully throughout the room. Toys are a great source of inspiration, and they make wonderful decorations when they aren't part of playtime. Big wicker baskets filled with stuffed animals add a cheerful feel to the room, and they brighten up empty corners. Sharing can be a challenge, but personal shelves dedicated to each child lets your toddlers claim special space. The children have their very own place to put favorite things, and you have a delightfully rotating display of favorite dolls and rugged action figures.
Kids always make their room bright with smiles and laughter. It's easy to give them more space for their fun and add extra color to their world. Take your inspiration from the things they enjoy the most even if that means listening to their toys. Creative ideas can come from anywhere, so have fun decorating your children's playroom.
Nadine Swayne is a freelance writer and blogger whose interests include everything art and design. She enjoys writing about family, literature, art, and interior decorating. Toddler toys like Bright Starts' balls, Connect-A-Pals, rolling roadsters, and poppers make perfect accessories for a playroom design.
Photo credit: http://www.flickr.com/photos/wicker-furniture/8859929704/,
http://www.flickr.com/photos/nlprincess13/6961616483/