Not only do they sweat bullets to keep up those above average grades that got them into college in the first place, successful college students are usually the ones who figure out how to make the grades and still have fun over the long haul. Four years isn't really a long haul in some respects, but for fresh young minds venturing forth from the sheltered life of high school, college is a lifetime.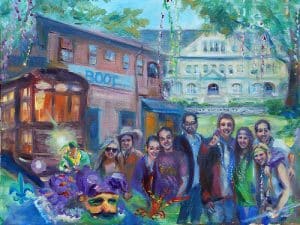 When you live that time in New Orleans, you're probably some of the happiest students around. Starting with Mardi Gras, NOLA, as it's known, caters to the festival crowd year long. With jazz after crawfish after art, there's something to celebrate all the time – and students at Tulane are right in the middle of it.
So it was quite fitting that the guest speaker at Tulane's May, 2013 graduation, the Dali Lama himself, gave a kind and inspired talk to the new graduates, and spoke of the value of having friends, being happy, and making the world a better place. "The very purpose of our life is happiness," he pointed out, "We are social animals, we need friends…think how to build a happy Century." In the spirit of the Big Easy, His Holiness also joined in for a little friendly dancing to the tunes of fellow honorary degree recipient, Dr. John.
Photo Credit:  http://www.flickr.com/photos/96495071@N05/8851046983/