Chicago Steak company is one of the Industry's Premiere online steak vendors and distributors of some of the finest meats in the world.  With a product range and variety that is second to none, Chicago Steak Company specialized in the highest quality beef and steaks in the world, but also have options for chicken, seafood, and lamb lovers as well.  From wet-aged to dry-aged, Chicago Steak Company has an unparalleled product in both sectors, and offers many types of cuts as well.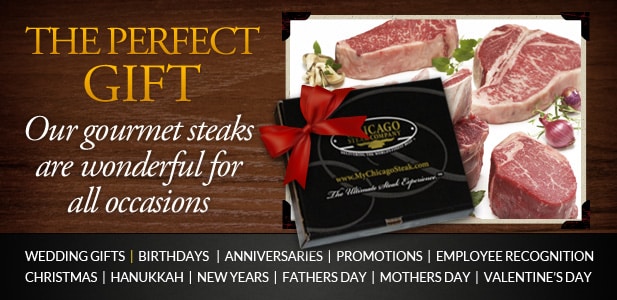 Whether you are looking at the next gift for a family member or just want to surprise that special someone, Chicago Steak Company has some awesome gift sets to choose from:
History:
Chicago's tradition of Delivering the World's Finest Beef started in 1864 – with the birth of the Chicago Union Stockyards. Some of America's largest beef companies such as Swift, Morris, and Hammond at the turn of the century produced 82% of the meat consumed in the United States. In 1882 Gustavus Swift created the first refrigerated car making it possible to ship the best cuts of steak coast to coast. Today, Chicago Steak Company is the premier provider of gourmet steaks, seafood and desserts. We are proud to continue the long and rich tradition of Delivering Mid-Western Corn-Fed USDA Prime, Black Angus, and Premium USDA Choice steaks to homes and businesses across America.
Learn More / Watch:
Learn what makes a steak from Chicago Steak Company the Ultimate Steak Experience: Grade, Artisan Aging, Hand Selection & Hand Cut, and Individual Registration.
Items To Browse At My Chicago Steak:
Premium Gold AngusFilet Mignon
Bone-In Filet Mignon
Ribeye
Bone-In Ribeye
Tomahawk Ribeye
Boneless Strip Steaks
Bone-In Strip Steaks
Top Sirloin
Baseball Cut Sirloins
Flat Iron
T Bone
Porterhouse
USDA Prime – Wet Aged
USDA Prime – Dry Aged
Wagyu Beef – Kobe-Style
Coach Ditka's Favorites
Steak Assortments
Steak Burgers
Chicken – Pork – Ribs
Roasts – Ham – Turkey
Surf & Turf
Fresh Fish Market
Add On for Special Price
See MyChicagoSteak.com for more!