Bugatti History: Ettore Bugatti Designed first car at 17!
The Bugatti History is one of a childhood dream converted into one of the world's most coveted brands and a household name.  The name Bugatti is currently owned by German automobile giant – Volkswagen, though the history of the cars dates back to 1909 when it was a French car manufacturer that majored in producing high performance automobiles. The company was founded by Ettore Bugatti, the son of a well-known Italian artist and carpenter.  During his teens, Bugatti enrolled to study sculptor at Brera Art Academy and it was during this time that automobiles were being invented. He decided to drop his pursuits as a sculptor and concentrate on automobiles since he discovered that he had insatiable passion for newly invented machines.
It didn't take long for Bugatti to decide to become an engineer and just at the tender age of seventeen, he designed his first race car, which ended up winning 8 of the 10 prizes in Milan during an international exhibition in 1901. His success during the competition saw him get the T2 prize for the construction of his vehicle from the French Automobile Club.
Dietrich and Mathias Contracts
When he was 21, Bugatti approached de Dietrich Company for a partnership to help him produce his vehicles. But his partnership with this company did not last long since Bugatti spent most of his time developing race cars, yet the company wanted him to concentrate on developing a series production. This led to his contract with Dietrich being terminated, after which he signed another contract with Emil Mathias. But his partnership with Mathias did not last long either, because after only two years, they disagreed and the contract was terminated.  This would spark an important change in the Bugatti History.
Bugatti History:  How They Moved Ahead
The two contract terminations were not enough to put Bugatti down. He desired to leave a mark in producing race cars and nothing was going to come in his way of achieving his dreams. In 1906, he designed a car that had 50hp engine and he offered it to Deutz for production and in turn, he was made the head of production department in the company's firm in Cologne.
Bugatti opens his own plant
In 1909, Bugatti decided to go solo and with financial assistance from Banker de Vizcaya, he started his main plant in Molsheim, Germany. From January 1910, the first machines from the plant were delivered and this marked the beginning of his legendary success in the car industry and the racing circuits.
Bugatti died in 1947, and there was no successor to take over reign of the factory. During its entire operations, the company made no more than 8,000 cars. Later on in the 1990s, the company was bought by an Italian entrepreneur who revived it to produce exclusive sports cars.
The History of Bugatti is truly amazing, and we'd love to hear your thoughts below in the comments section.
Another helpful link is the official Bugatti Homepage for their history.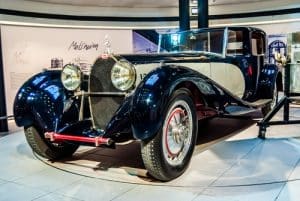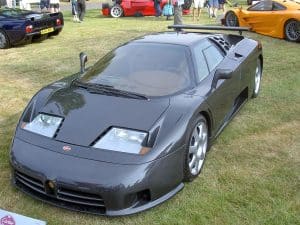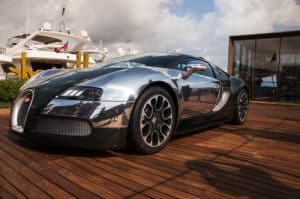 Photo Credits:
Daur EB110 By big-ashb – Bugatti EB1100, CC BY 2.0
Bugatti Veyron – Massimo Campanari /Shutterstock.com
Bugatti Type 41 – ASANDA EDShutterstock.com