This super delicious and super healthy Vegan Bean & Cheese Quesadilla recipe serves about 4 people. This meal consists of 3 parts. First, we'll make the refried beans and cheese sauce, which I like to do in advance because then your bean and cheese quesadillas only actually take about 15 minutes total to make! However, to make the beans and cheese sauce is about an hour and 15 min. because you have to soak your cashews for an hour before getting started. I suggest reading through the pretty easy instructions below so that you can account for the time it will take!
Gluten Free, Vegan Bean & Cheese Quesadillas
Cheese Sauce – 75 min.
Beans – 15 min
Quesadillas – 15 min
Ingredients for the yummy Vegan Bean & Cheese Quesadillas:
2 cups of the Vegan refried beans (recipe below)
4 gluten free flour tortillas
Cashew Cheese Sauce (recipe below)
Salsa
Guacamole
Three part recipe, Part 1:
Ingredients for the Vegan Refried Beans:
1 tsp. of olive oil
1 med. yellow onion, chopped
3 15-ounce cans pinto beans, rinsed and drained
2 tbsp. of liquid aminos (or gluten-free tamari; use coconut aminos to be soy-free)
2 tsp. of ground cumin
2 tsp. of ancho chile powder
1½ tsp. of ground coriander
¾ tsp. of smoked paprika
½ cup low-sodium vegetable broth
3 tbsp. of canned diced green chiles
2 tbsp. of lime juice
Salt and black pepper to taste
Instructions for the Vegan Refried Beans:
Start by heating the olive oil in a pot with medium heat. Add your onion and sauté it until they are just translucent, this will take about 3 to 4 minutes. Add the beans, and the rest of the ingredients except for the green chiles, lime juice, salt and pepper.
Cook for about 5 minutes, until heated through and about half of the liquid has been absorbed. Then add the green chiles and lime juice to the pot and remove from heat. Put your beans into a mixer and pulse until your beans are pretty smooth but still has some chunks. Lastly, add the salt and pepper. *For a healthier option, skip the salt! Next, let's make the Cashew cheese sauce!
Three-part recipe, Part 2:
Ingredients for the Cashew Cheese Sauce:
½ cup of raw cashews, (soak in warm water for at least 1 hour and drained, keep the water you drain, this makes one of your ingredients below, the reserved soaking water.)
5-6 tbsp of reserved soaking water
2 tbsp. of lemon juice
2 tbsp. of nutritional yeast
½ tsp of white soy miso
Instructions for the Cashew Cheese Sauce:

Mix together your cashews, nutritional yeast, ¼ cup of the reserved soaking water, lemon juice, and miso in a blender and process until your mixture has become smooth. *You can add up to 2 tbsp more water for a thinner sauce consistency. This sauce will keep for about 1 week in your refrigerator. The cheese will thicken when chilled, more tablespoons of water will be needed to reheat.
Three-part recipe, Part 3:
Instructions for the Vegan Bean & Cheese Quesadillas:
We start by spreading a ½ cup of the vegan beans from above on to one half of a gluten free tortilla. Next, drizzle some of the cheese sauce over the beans. Carefully fold the other half of the tortilla over. Repeat with the rest of your tortillas.
Lastly, heat up a pan over medium heat. Put 1-2 of your quesadillas in the pan and cook for 3-4 min. on each side, until golden. Serve right away with your favorite salsa and guac!

*See, once the beans and cheese are prepared, the quesadillas are quick and easy peasy! There are a whole bunch of ways to use these leftovers, go nuts!
Summary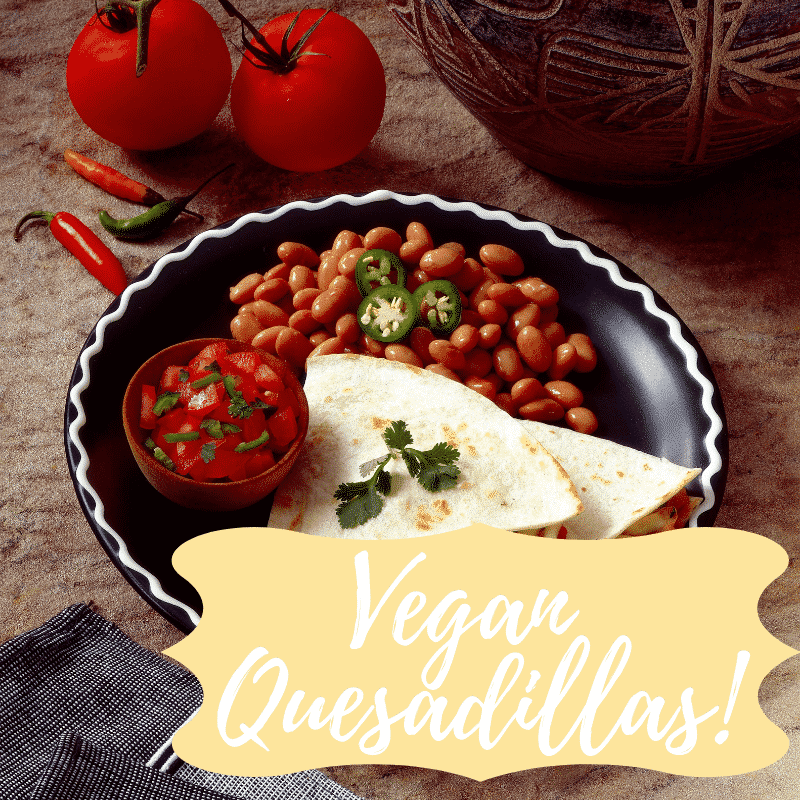 Recipe Name
Gluten Free, Vegan Bean & Cheese Quesadillas
Published On
Preparation Time
Cook Time
Total Time
Average Rating





Based on 1 Review(s)