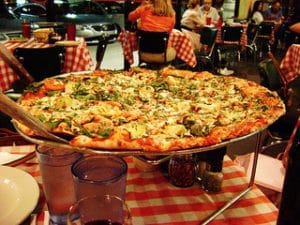 Houston's annual Restaurant Weeks event is a great way for tourists and locals to experience the best of the area's cuisine. As an added bonus, this delicious tradition benefits the Houston Food Bank, so you will be able to help provide food for other people each time you visit a participating restaurant.
This year's Restaurant Weeks started on August 1, and it will run through September 2. There are more than 100 dining establishments participating in this fundraiser, and you will be able to enjoy a wide variety of food options from each location's special Restaurant Weeks menu.
How do I Take Advantage of Restaurant Weeks?
The best way to plan your meals during this event is to visit the official website at HoustonRestaurantWeeks(dot)com. Here you will be able to see a list of every participating restaurant, and you can also click on each location to learn exactly what they are offering on their Restaurants Weeks menu.
It is important to note that most locations require reservations to take advantage of this great deal, so you should always call ahead and let them know that you will be dining there because of Restaurant Weeks. For out-of-towners, it's also a good idea to book hotels near Houston Texas way in advance at this time of year.
How does the Process Work?
Each restaurant picks their own special menu for lunch and dinner, and diners will need to make a selection from the listed options. The price for each meal during the specified dining period is the same, and a portion from the per-person cost will be allocated to the Houston Food Bank. For example, if you decide to make reservations at Damian's Cucina Italiana, you will get a three-course meal for $35, and $5 from your dinner will be donated. You will also have three different options for each course, and all of your choices are listed on the website to make it easy to select the perfect place for dinner.
What Type of Restaurants Participate?
Although Houston has several chain restaurants located throughout the city, their Restaurant Weeks event celebrates local businesses. In other words, you will be able to experience food from some of the best restaurants that the city has available, and this makes this event a popular favorite among tourists. In fact, many people who love fine dining plan their trip to Houston around this event, and consistently, it's proven to be the perfect complement to any vacation. This year's list, for example, includes everything from steakhouses to Japanese cuisine, and there are also a few chain restaurants on the list such as the Rainforest Cafe for diners who prefer a familiar name.
Because these restaurants are located throughout the city, it might seem difficult to pick a lodging location. However, the southwest portion of town is definitely a good choice, and you will also have easy access to everything else the town has to offer, including the museum district, the Houston Zoo and the Galleria Mall. Keep in mind that Restaurant Weeks is very popular, so it is important to plan ahead and make reservations for events and restaurant dining early.
Southern author and avid traveler Molly Pearce is the first to try the newest restaurant in town and loves whipping up creative dishes for her family and friends. As a food lover, she hopes to check out Houston's Restaurant Weeks herself one year. When researching the sights, venues, and hotels near Houston Texas she got a lot of info from the website of Hilton Houston Southwest which is convenient to most of the attractions Houston offers.
Photo Credit:  http://www.flickr.com/photos/nakrnsm/3980269048/,