Whether you're building your new home from the ground up or simply renovating to give your old home a new look, chances are that you are flooded with choices. From big decisions on tiling, lighting and a color palette, to small decisions like handles and light switches, what you choose will impact the ultimate look and feel of your decor.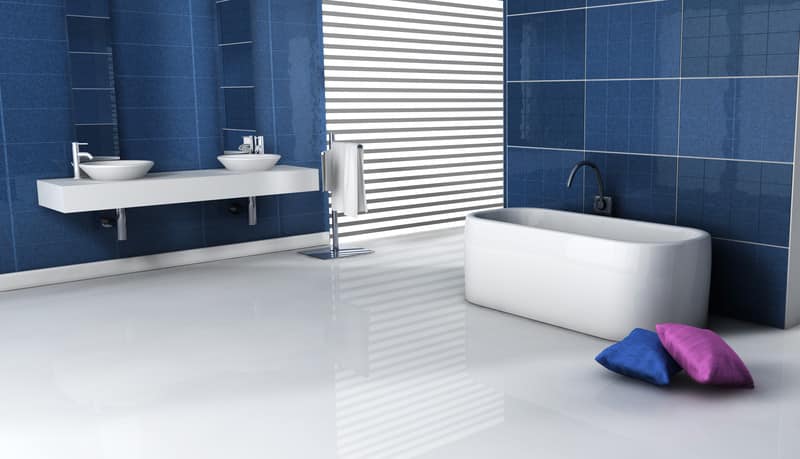 One area of design that often gets overlooked in this decision-making process, or gets the "play it safe" treatment, is the tap. Many homeowners go for traditional models when choosing taps for their bathrooms and kitchens, and fail to see the wide variety of taps that can enhance the look of a room.
One easy and chic way to elevate the look of a kitchen or bathroom is to choose waterfall taps, a new innovation in fixtures that are as pleasurable to look at as they are functional. A waterfall tap operates by delivering water in an upward path. The fall of water is beautiful and graceful, just like a waterfall in nature.
Here are seven excellent reasons why you should avoid the pedestrian options and choose the elegant when picking your kitchen or bathroom fixtures.
1) Easy on the Eye
Before you go choosing a standard aerator tap and picking it solely for function, stop and think about how beautiful your kitchen and bathroom would be if, when a tap is turned on, a cascade of water fell into your sink or bath. Waterfall taps provide a stunning visual for people who use them, and kids of all ages have been known to stop what they are doing and play with the flow of gentle water coming from the faucet. Installing these taps gives the room a unique, dramatic and artsy look, not to mention up-to-date elegance thanks to the new designs available. Choose the personality of the room by picking either shiny chrome or traditional ceramic.
2) Useful and Functional
Without getting too starry-eyed about these gorgeous additions to your home, let's look into functionality. Kitchens and bathrooms serve a crucial purpose in the home – to get our dishes (and ourselves!) clean. Waterfall taps have a high degree of functionality – in comparison with aerated taps, waterfall taps send more water and less air your way, aiding the cleaning process. If you are used to aerated taps, you may need to re-teach yourself how to use waterfall taps – there's no need to turn the tap up to full blast to get a steady stream.
3) The Convergence of Design and Art
To complement the delicate delivery of water from the tap, designers have crafted sleek tap designs in a variety of ways. You can choose from a traditional style of tap that features the waterfall tap's upward stream, or be more daring and go for a plate design. Waterfall taps with plates allow water to cascade over a larger area, providing a pleasing visual as the tap runs.
If a plate doesn't sound like your waterfall tap of choice, there are still plenty of other options. First up there is the simple single handle waterfall tap, where the water is visible as it cascades forward; there is also a double handle design for hot and cold. The "water blade" design closely mimics flowing water in nature and utilizes a chrome plate for water delivery, and the range of bath tap and bath mixer designs can double the look of your bathroom sink and make for a pleasurable bath time.
4) A Relaxing Waterfall in your Home
People everywhere hike for miles through dense forest or along desolate beaches to marvel at waterfalls. Seeing the constant flow of water unleashed is a relaxing and pleasurable experience that brings people peace and inner calm. Life at home can be a stressful experience as we struggle to get chores done while dealing with family life – imagine having the feeling of visiting a glorious, powerful waterfall every time you turn on a tap in your bathroom or kitchen; you can have a moment of Zen whenever your heart desires it.
5) A Talking Point for your Bathroom and Kitchen
Waterfall taps are a relatively new innovation, and people are only beginning to choose these taps for their homes. By installing waterfall taps in your home, your friends and family are sure to comment on these pieces thanks to their unusual look. Next time you have guests over, you can expect to have people leave your bathroom or kitchen talking about your fixtures – you might even get a bit of help with the washing up as a result! Waterfall taps are a delight for everyone – adults love the look of waterfall taps and kids love the way the water flows.
6) The Chic Restaurant's Choice
The most recognizable place waterfall taps have been installed in recent months has been in new restaurants and clubs – chic hotspots that have just opened to much fanfare. Going to a hip new restaurant or thumping new club is a great experience, but seeing the little things like fancy waterfall taps just adds to the experience. If you want your home to have the same kind of buzz around it, choose waterfall taps for your bathroom and kitchen.
7) Easy to Install
Before you panic and think that the different design of waterfall taps makes them hard to install, think again. The installation process is just the same as any regular water tap. Whether you're choosing a single or double handle, a mounted tap or a mixer, waterfall tap installation is simple. When you buy your taps, ask your salesperson for any tips or tricks and you'll be set.
Waterfall taps bring a sense of beauty, elegance and relaxation to your kitchen and bathroom that can't be beat. Now you've heard of all the great reasons to buy a waterfall tap – from the look and feel to the ease of installation – all you need to do is pick the design that best suits your home and bring them home.