A bathroom serves many purposes. Such purposes may include a place to getaway and relax as well as a place to have a bath. When decorating a bathroom, many factors should be taken into account. One of the most important factors are the type of decoration used on the wall. Wallpaper is an ideal material for use in a bathroom. Using wallpaper in a bathroom is a great way to add color, light and pattern to any space. Picking out the right wallpaper can be tricky. Fortunately, if you take several factors into consideration, you can find just the right wallpaper for any bathroom in any home.
Video Overview
Colours Already In Use
Any bathroom wallpaper should take the colours already in use in the bathroom into consideration. Many people like to use plain white as a base colour for the bathroom. White is an excellent background colour that will blend in well with any bathroom wallpaper you pick. Other colours are popular as well. Darker colours such as navy blues and hunter greens work well with either wallpaper in a similar dark colour or a wallpaper in a lighter colour such as sky blue or mint green for contrast.
Pattern Considerations
Many wallpapers come in patterns. A pattern is an excellent choice for a bathroom because it can help provide a sense of life and energy to a space that might otherwise be lacking in attractive and interesting features. Think about the size of the bathroom. A large scale, repeating pattern is ideal for a big bathroom. It may overwhelm a smaller bathroom. A cozier bathroom does well with wallpaper that has a small scale pattern. The small scale pattern can give the smaller space a sense of gentle movement as the eye is drawn to the repeated motifs.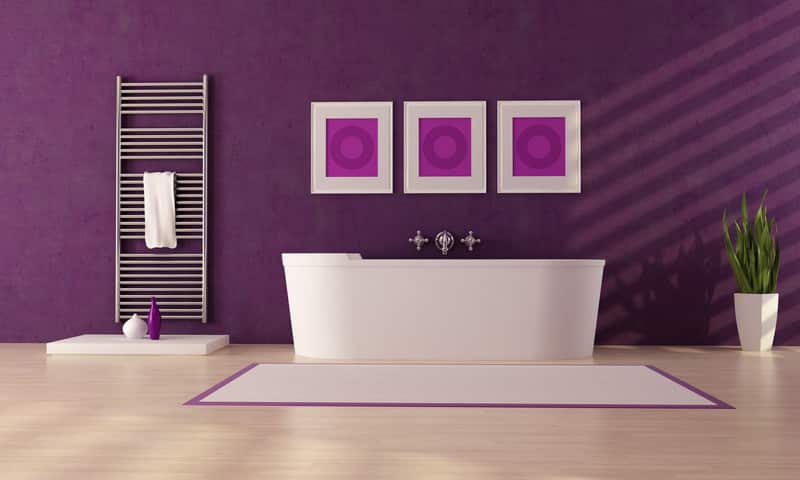 The Size of the Bathroom
The size of the bathroom where you are using the wallpaper is a very important factor in any decision. A larger bathroom might feel intimidating once you walk in. Wallpaper can make this bathroom feel more inviting and easier on the eyes. Look for wallpapers that have intricate details. Detailed wallpapers can make a large bathroom feel cohesive even if the items in it are made from varying materials. Consider using the wallpaper in a single wall or two in the bathroom to provide a sense of separation. For example, if you have a separate area for the toilet, use wallpaper on that area only and a different material for the rest of the bathroom.
Availability of Natural Light
Bathrooms have varying kinds of lighting. Some have windows. Others have a skylight. Some bathrooms have no windows at all. Take this fact into account when choosing wallpaper. A wallpaper will look differently depending the lighting in the room. If possible, find out if you can bring home a small piece of the wallpaper to hang on the wall of the bathroom. Examine the wallpaper at various times of the day if you have natural light. Make sure you are satisfied with how it looks during each time.
Shape of Bathroom
The shape of the bathroom is another important consideration. Many bathrooms have walls at odd angles or ones that slant because of space considerations. Make sure the wallpaper you pick can fit exactly on the walls without creating problems when hanging it. Wallpaper is a wonderful way to spruce up any bathroom. Think carefully about the bathroom's color, size and shape before you decide what kind of wallpaper you want. Follow a few simple rules for making your choice and you will have completely perfect results.
Matt writes for JT Spas, a luxury bathroom suppliers who stock anything from taps, to standalone baths.