The most common metal allergy is nickel, but some people are actually allergic to pure gold. If you have one of these allergies, you will most likely discover it after you develop a rash from wearing jewelry.
Unfortunately, it is not always easy to pinpoint the exact metal that is causing the reaction because many gold and platinum pieces have nickel inside of them. Therefore, it is important to research your jewelry as much as possible to get a better understanding of all of the metals that were used during the creation of each piece.
How Can I Avoid My Metal Allergen?
Because there are so many metals mixed together during the production of jewelry, it might seem impossible to avoid your allergy. However, if you are able to figure out the specific metal that is causing the issue, you can buy jewelry that is certified not to have that metal inside of it.
For example, most jewelry stores sell gold that is guaranteed not to have any nickel in it. Many people find it easier to find a variety of pieces at online stores like www.superjeweler(dot)com, and countless others.
As an added bonus, if you are still unsure about your metal allergy, you can experiment with nickel free jewelry to conclusively determine if nickel is the allergen that causes you to break out in a rash.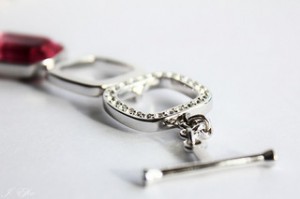 Gold Allergies and Engagement Rings
Many people believe that a woman's engagement ring needs to be made of gold and feature a diamond, but neither of these are actually requirements. Therefore, if you are getting ready to propose to someone who has a gold allergy, you can purchase a ring made from palladium or sterling silver.
Keep in mind that people can have an allergy to any metal, so you should make sure to ask your beloved if they have any other metal allergies before you move forward.
At least 24 percent of women and 7 percent of men are allergic to nickel. Allergies to gold and other metals are less common, but they do happen. If you develop a rash after wearing a piece of jewelry, you should avoid buying any additional items that feature the offending metal.
It may also be necessary to visit a dermatologist in order to relieve the rash. Unfortunately, a metal allergy can suddenly impact an individual after several years of wearing the same piece of jewelry, so you should always closely monitor your skin for any issues.
Jamica Bell is a blogger and freelance writer. She contributes this article because her husband developed a metal allergy after many years of wearing jewelry. She has come to understand the importance of finding quality nickel-free jewelry and was able to find such pieces at www.superjeweler.com, an online jewelry store.
Photo credit: Emilian Robert Vicol
Photo credit: JFXie