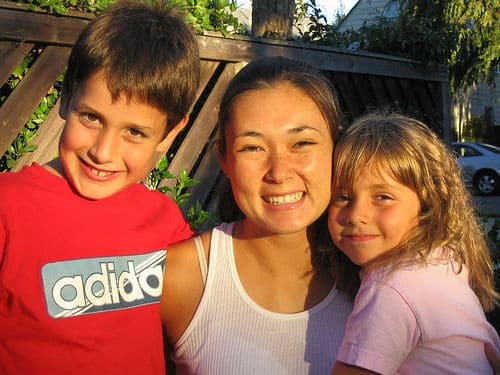 How to hire a safe babysitter
Because we hear so many scary stories these days, you may feel like it's easier to simply forego the entire process of finding a babysitter for your kids than it is to find a sitter that you trust. The benefits outweigh the risks, in my mind though and I speak as a parent that is still very concerned about safety.
I'll never forget, with my second baby, I was completely overwhelmed by his colic and constant screaming. I didn't think I could experience any relief though- I guess secretly I wondered, "Who in the world is going to want to take care of this difficult baby?"
It all changed when I was at the chiropractor, a friendly doctor in the neighborhood, and one of the secretary staff took one look at my baby's blue eyes and said, "Oooh, I would just love to hold your baby and take care of him!" I thought, "Really?" She actually gave me her number saying that she absolutely loved newborns and I took it down thinking- "Yeah right, whatever, NEVER gonna happen."
But, one day, when my sanity had pretty much thinned out, I actually called her. Let's name her Ann.
We spoke over the phone and she had so much confidence in how she spoke about babies I was immediately attracted to her style. She was a single woman in her 30s with a full-time job for the government (yay for security clearances!) and just enjoyed babies and had some free time in the evenings and on weekends.
She came to my home early one night so I could meet her and see how she handled my kids. She was firm but loving. I knew she had a background check and security clearance. She gave the kids a bath and even offered to make dinner. We laughed about my bad cooking skills. She talked about her other steady babysitting jobs.
I felt an instant rapport with her-I liked her firmness with my children, I knew they wouldn't "get away" with half the stuff with her that they got away with, with me!
And so began our long 7 year + relationship. I've had more babies since then and she's done wonderfully with them. I've never felt the need to get a nanny cam/video baby monitor or question her handling of the kids. We've become wonderful friends and from time to time go to lunch.
I do have other teenagers that I can call on when Ann is not available (she does charge more money than a teen and has a 3 hour minimum) but I mostly use them when I know all the kids are in bed and that they won't really need too much if they wake up for a moment.
When you're searching for a babysitter and figuring out what contributes to finding a safe one, realize that I shared with you the story of how I found Ann, for a reason. There were many preliminary factors that led to my choosing to hire Ann. Here's what I mean:
– I found her at a location that was familiar to me, the chiropractor's office. I could see her professionalism quite clearly and could "watch" her in another setting besides my home, leaving me a way "out" if I needed one.
– She loved babies and asked ME if she could hold my  baby, clearly exhibiting her love for babies.
– She had many other references of families whose children she watched, so I had plenty of references to call if I needed.
– She asked me about dinner and bathing, and even brought over activities the kids would love, so it was clear to me that she was interested in their activities and other needs-I knew she wouldn't just plunk them in front of the TV.
– When I came home, she gave me a full report of how the kids were, even down to the nitty gritty details so I felt I really knew how the evening went
– Her firmness with the children, even when there were multiple babies crying, made me feel that she would be always in control over every situation. She seemed un-fazed by "drama" and so I didn't worry that they wouldn't listen or that there wouldn't be a situation that she wouldn't be able to handle. She was always calm and comfortable with the kids.
– Her 3 hour minimum policy "forced" me to really plan my outings in advance-no last minute frantic trips – which led to both of us being fully prepared to handle our responsibilities. Thinking about how you AND the sitter can come to the table in your "best" form will really ensure that the evening is a success.
I hope that you can glean some tips on how to hire a safe babysitter for yourself and your family from my own story, beyond the obvious (like showing the sitter where all the safety tools are like flashlights and batteries, medicines, and doctor phone numbers). I guess the most important thing is that you trust your instincts. A mother's instincts are stronger than you may think!
Rivka Slatkin is a stay at home mom of 3. She enjoys writing for her blog http://www.baby-monitors-reviews.com in between her baby's naps all while listening to him on her favorite baby monitor!