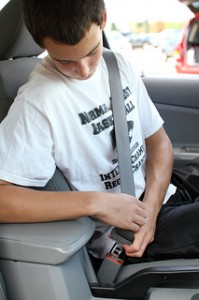 Millions of 14 year olds wait in anticipation for their 15th birthday to arrive. They are not waiting in expectancy for an extravagant birthday party or mountainous gifts. Their eagerness revolves around obtaining their learner's permit.
This momentous occasion is often marked with a celebratory drive home. Nothing can compare to the pride and accomplishment felt by that newly licensed 15 year old. In addition, though parents may feel the satisfaction of watching their child successfully complete a task and milestone, they may also experience a new found anxiety.
Scary Statistics
According to the Center for Disease Control (CDC), the leading cause of death in the U.S is automobile accidents. For teens, ages 16 to 19, every mile they drive they are three times more likely than a 20 year old driver to be in a fatal collision. These are terrifying facts for parents of driving teenagers.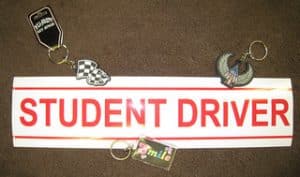 A Sad Tale
It is essential for every parent of new drivers to fully understand and comply with state driving laws regarding their teens. Reviewing the driver's manual from the Department of Motor Vehicles is just as necessary for parents as it is for prospective drivers.
For example, a tragic accident involving a newly licensed Georgia teen made headlines recently. At about 5 a.m. the young man was allowed to drive a 2002 Ford Explorer with three other teenagers in the vehicle during. He lost control of the SUV and crashed, ejecting one of his passengers from the car, which resulted in his death.
In an unexpected turn, the parents of the 16 year old driver were charged with contributing to the delinquency of a minor and permitting a minor to drive. Sadly, this could have happened to any family, but knowing the law and abiding by it could have saved a life.
Illegal Drivers
In the above mentioned example, this driver would be considered an "illegal driver." He was illegal because Georgia state laws regarding instructional mandates that the driver must be accompanied by a licensed C Class driver 21 years old or older. In addition, the law prohibits any driving between 12 a.m. and 6 a.m.
In this case, neither statute was followed causing tragedy to ensue. With this said, it is of the utmost importance for parents to be both knowledgeable of the state law, as well as willing to enforce it. It is clear that parents who are not willing to follow the law run the risk of being prosecuted to the fullest extent.
In states like Florida, there is a rise in teen accidents in cities like Panama City, Orlando, Fort Lauderdale and others. Parents of these teens may have to consult an auto accident attorney in Fort Lauderdale Florida  or other Florida city to litigate their case.
Tips for Parents
The good news for moms and dads is that car crashes are avoidable, and established strategies can make the driving experience of young drivers safer and more fulfilling.
Know the Law
This cannot be stated enough, parents must know the law and comply. This sends a good message to the teens that following the law is the right thing to do. In addition, it goes a long way in establishing a healthy attitude regarding citizenship.
Establish Rules
Establish your own house rules for what can occur in the car.
Putting all cell phones in the glove compartment while the car is in motion is one way to promote no texting or talking while driving.
No headphones. Another rule to put in place is not driving with headphones. This will help to form a habit that cuts down on distracted driving.
Have a curfew. This can protect young motorist from being on the road during dangerous hours when drunk drivers are most likely traveling.
No friends driving the car, even if an authorized driver is present.
Though there can be a lot fears surrounding teen drivers, it can be a very rewarding experience for both the teens and their parents. Knowing the law, having a plan, and sticking to it can go a long way in ensuring a safe driving experience for all.
Jamica Bell is a freelance writer and mother of prospective drivers. She contributes this article as a way to highlight the dangers of allowing your teens to be illegal drivers. Michael Steinger is an  auto accident attorney in Fort Lauderdale Florida who is dedicated to defending the legal rights of individuals involved in accidents involving illegal drivers.
Photo credit: State Farm
Photo credit: John Fischer