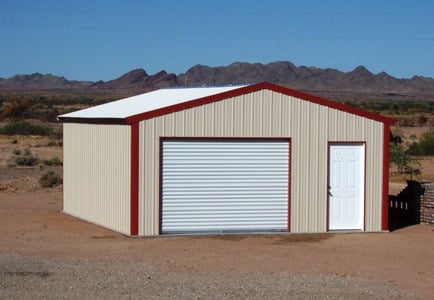 As society progresses, engineers are paid to look for new ways to create and design the things we will always need. When it comes to buildings and structures, today's engineers are looking to use old materials in new ways. With all the damage that's been done to homes and buildings in the last 15 years bynatural events like hurricanes, tornados, and even forest fires, people are looking for better ways to protect their families, businesses and belongings.
Recently, there have been many advancements in the design and construction of steel buildings. Engineers have found ways to make these structures more stable and safe than ever before. These buildings are designed to resist extreme weather events such as hurricanes, and they are designed to resist the effects of the elements, like rust from rain and snow – all while staying environmentally friendly. Steel is 100% recyclable and forest friendly. Steel structures are being tested as residential dwellings as well. The end walls can be covered with facades to look like wood, stone or aluminum so that they blend in with traditional houses made from wood or brick, but are more durable and reliable than those materials.
Steel structures are often used as residential garages or workshops for people who love to work with their hands and need extra space to work and store their projects. They're also a particularly efficient choice for anyone looking to protect their cars or other vehicles from harsh weather – whether that means rain, snow or high wind. Plus, most steel building models are customizable. Owners can choose to install skylight panels, windows, service or pre-hung doors and more. Meanwhile, industrial-sized steel buildings can be used for commercial property sites. Many churches use them as extra space for their youth programs, they can be used as hangars for airplanes, or even as barns for cattle and livestock.
One of the best features of these steel building kits is that they are easy to install. It can take as few as two people to install a residential-sized structure. Commercial structures are just as easy; the only difference is that the scale of the structure is much larger, so they heavy machinery is needed to safely erect the buildings. The structures' design ensures that 100% of the space inside the building is useable.
Once these structures are installed they are fully functioning buildings. They can be wired with electricity and plumbing according to the local city codes, they can be insulated with an array of different materials to protect the inhabitants from the elements of nature, and they are virtually maintenance-free. Also, because these steel building kits include no wood they are not subject to the dangers of pest infestation or wood rot. All these factors make steel structures a reliable and durable new alternative to wood buildings, for any home or business.
Author Bio:
Rick Lidack has been working in construction and maintenance for several decades, and writing about his experiences for almost as long. Recently, when searching for the best steel building kits to use for a new project, he came across Rocket Steel Buildings and found their products to be the perfect solution to all his storage and construction needs. He recommends that anyone looking to do the same click here to visit Rocket Steel Buildings online.