My Yummy Vegan Breaded Chicken Recipe…
So it was one of those nights. The thunder rolled in…lol, j/k. One of those weeks where you had to wait for one more, then two more days, then three more days until you could get to the grocery store because you just simply didn't have any time! So now there is nothing to eat in your house. Well, not nothing but… a bunch of random items from a bunch of different types of recipes and now you need to find a meal out of it all. No big. Lol. It ended up being a tasty vegan breaded chicken recipe but it didn't start out sounding so nice and my kids were very skeptical!
How it all started…
Okay, so we had those vegan chicken strips that you always buy at the store because you always have hope that they might taste good this time, you know what I'm talking about! Usually, it's these Gardein chick'n strips or these Veggie Meal Starters Chik'n Strips. They aren't my favorite but every now and then they're good if they are cooked just right. Apparently adding gluten-free bread to them, did the trick! It's important to note though, that the fake chicken is not gluten-free. I am excited for the day when the vegan/veggie frozen section of the grocery store is full of gluten-free options. I know that day is coming and it's already come a long way but still. People with celiac disease need their frozen, processed vegan food too! Lol. Even the vegan section could be much bigger. I am thankful for Whole Foods. I feel like I can make almost any meal vegan because of that grocery store.
So here is what I concocted with all that I had: Vegan Breaded Chicken & Rice, Steamed Red Potato, Grilled Green Beans and a Salad. Super Yummy! Yeah…I'm super sometimes 😉
Vegan Breaded Chicken Recipe Ingredients
Bread Crumbs, for this I had an old gluten-free package I had been meaning to try since last year but you could use a seasoned bread crumb recipe out of the bread you have etc. Mine was Ian's Panko Breadcrumbs Gluten Free. I used the whole bag.
Vegenaise Mayo 1/2 cup.
A bit of Paprika
Garlic
Some Seasoned Salt
A little Olive Oil
Red Potatoes
Green Beans, cut long.
Spinach Leaves
Pine Nuts, I used a half a bag.
Raisins
Balsamic Vinaigrette
Salt
Pepper
Paper Towel
Vegan Breaded Chicken Recipe Directions
Pre-heat your oven to 375 F.
Add a little olive oil to a skillet on your stove top, I cook at med. for 6-7 min. then a tad above med. for about 10 min.
Place rice and potatoes in a steamer for 30 min.
While those are both going, start to prepare your bread crumb station.
Lay out a couple of paper towels to pad off extra oil off the "chicken" once done.
Scoop 1 cup of mayo into a medium sized bowl.
Place breadcrumbs in a large, deep bowl or just whatever you have.
Take the "chicken" strips off the stove top, let cool about 5 min or until you can handle them (or use a fork).
Dip each strip into vegan mayo, then coat in bread crumbs then place in a 15×10 Pyrex dish that's covered in foil. The foil will help keep the "chicken" strips moist and cook evenly.
Then repeat until all strips are lined up in a dish.
Sprinkle an even amount of garlic, paprika and seasoned salt over the breadcrumb covered "chicken" strips.
Place in pre-heated oven for approx. 20 min., until bread is golden brown.
While the "chicken" is cooking, place a little olive oil in a pan, and cook green beans until soft. Sprinkle with salt and pepper to desired taste. Add some raisins and pine nuts.
Grab a handful OR more of spinach leaves, place in a bowl, add some pine nuts and raisins to that too! Add your dressing of choice.
Place rice on a plate with "chicken" strips over it with a red potato to the side and some green beans and a side salad!
That's it!
That was my last minute vegan breaded chicken recipe with rice and veggies! I hope you enjoy it. Nothing is better than when vegans can have awesome meals that match everyone else's options. I know not all vegans care about that but many do and I love creating recipes to help! 🙂 It definitely helps with raising my little vegetarian who is now 7 years old. She doesn't love having to pass on certain meals and treats so I love to swoop in with my vegan marshmallows for a bonfire or vegan hot dogs for the win at a BBQ!
It is definitely a bigger challenge though when one of your children has celiac disease and wants to be a vegan like my oldest! But, once we started eating cleaner, it's pretty easy. It is only really a challenge with processed items but as I said above, I know the day is coming when there will be options everywhere and readily available! I for one, can't wait!
The struggle is real!
Vegans and vegetarians rarely have to go without anymore, sometimes it just takes a little bit of work and extra dollars. It's especially important when a meat-eater is trying to transition. These fake meat meals can help a lot in the transition phase! I speak from experience. I have also posted many vegan recipes that contain fake meat here and here! I'd love to know which ones you've tried, please share! I'd also love to know if you have made alterations to this recipe! I would love to add your alteration to this post!
This vegan breaded chicken can also be a delicious vegan lunch recipe too! My kids loved having the leftovers in their lunchbox the next day at school! Sure enough, all the kids thought it was meat and wanted to try it too!
You can also follow my recipes on my instagram!
Summary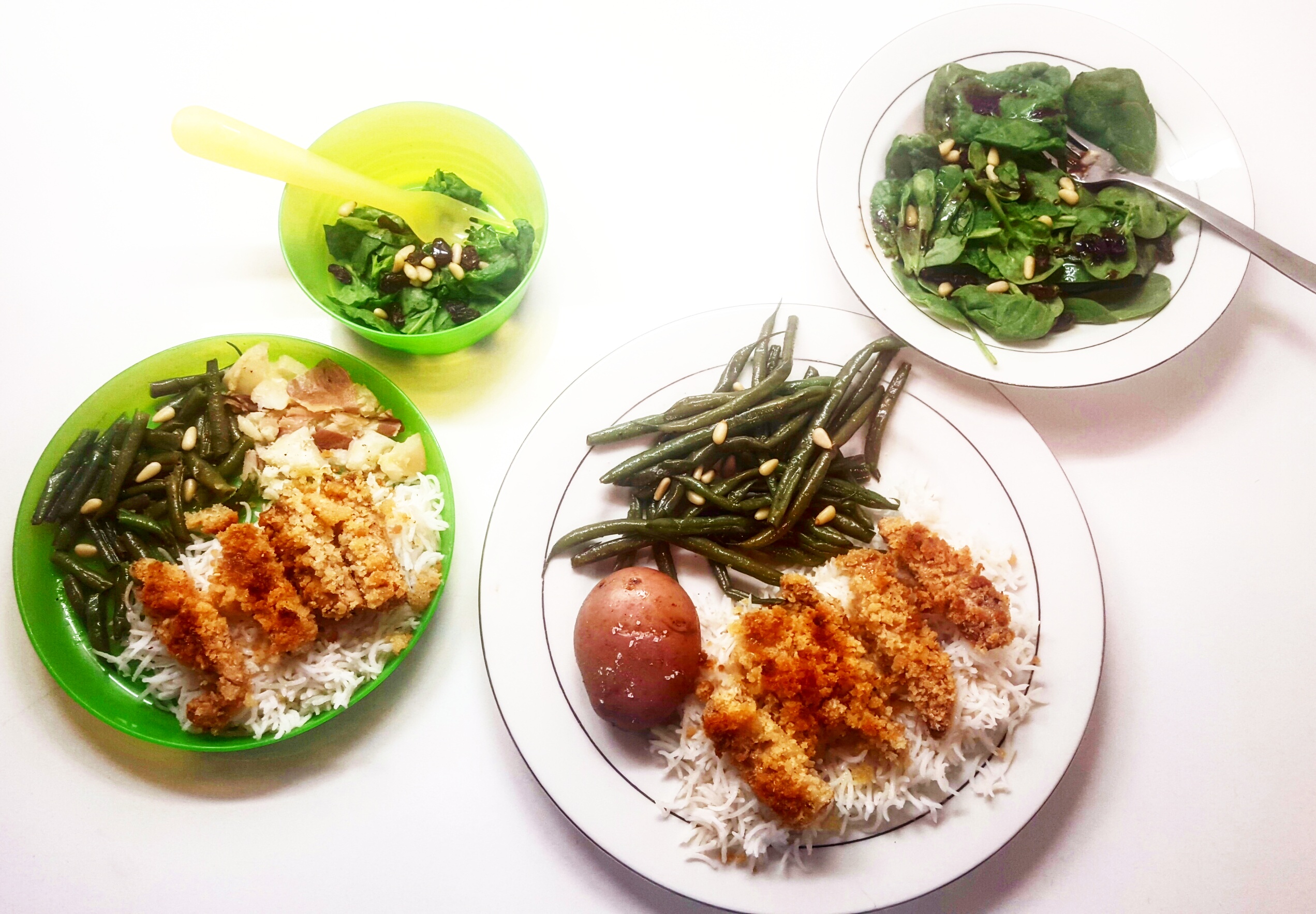 Recipe Name
Vegan Breaded Chicken Recipe (Gluten Free)
Published On
Preparation Time
Cook Time
Total Time
Average Rating





Based on 2 Review(s)