This recipe for Southern Shrimp Boil is so yummy!  Living along the Gulf Coast means that I'm lucky enough to go to the beach at the drop of a hat. Not only that, but we have the luxury of getting some of the freshest seafood you can get, short of working on a shrimp boat. It's become a family tradition to all load up in the car and travel to the local fish market and get pounds of freshly caught shrimp for a seafood boil. 
Visiting the fish market is an experience that I haven't seen replicated anywhere else. As soon as you enter, you're bombarded by a milling crowd, moving in all directions. After grabbing a number, you wait your turn, checking out all the fresh fish and shrimp until they shout for you. It's a crazy mess of orders being shouted, the sounds of boats being unloaded in the back from the docks, and people ordering fresh sushi and steamed seafood. It can be overwhelming the first few times that you go, but after that, it becomes an experience that you look forward to.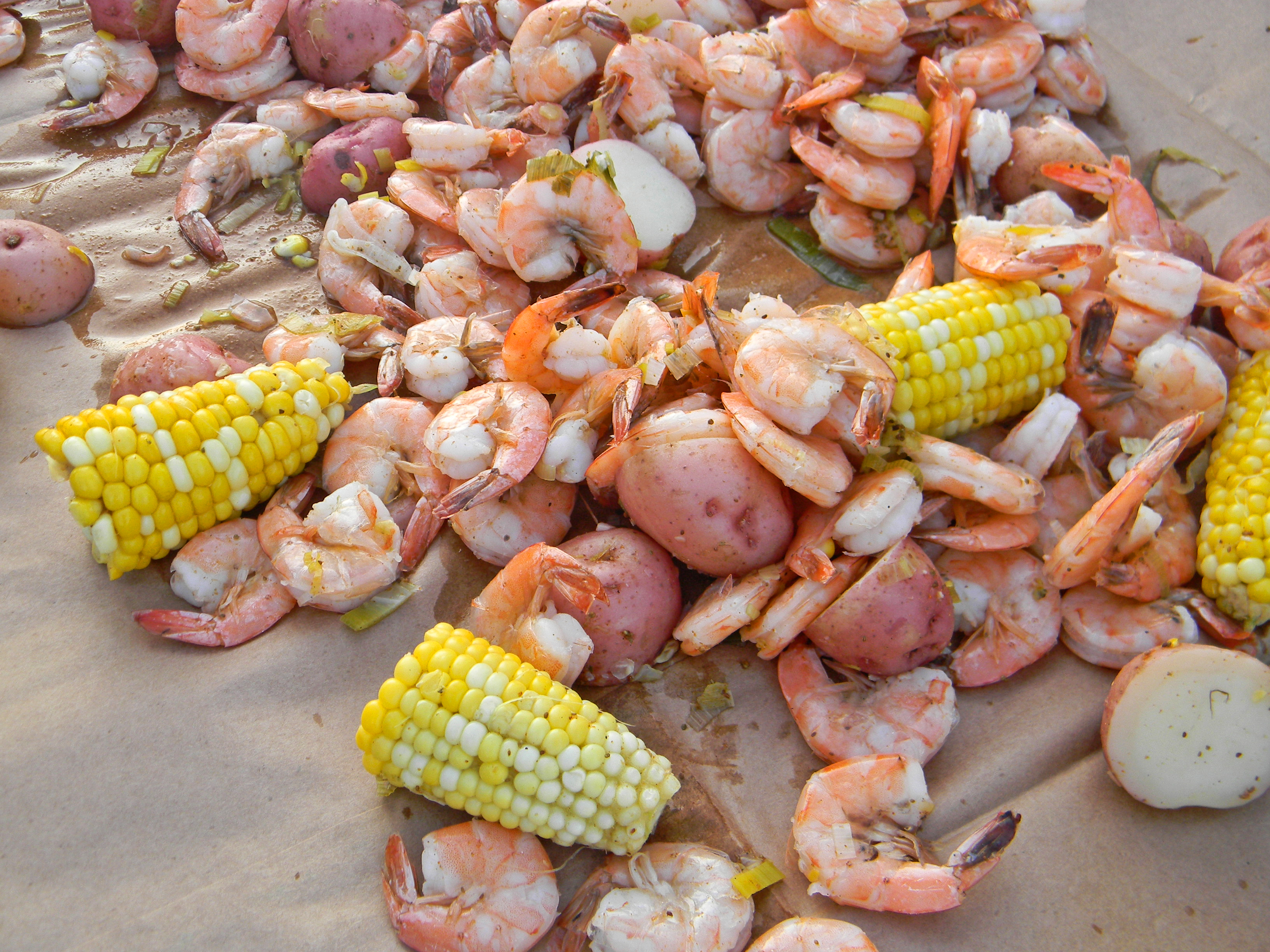 From here, we all travel to my grandparents' house and all scramble around the pool. The kids will play in the water, and the adults will sit around the table, drinking and laughing and having a good time. We invested in a large stock pot and a gas burner so the cooking can be done outside. It's a pretty quick process, and when it's done, we line our outdoor table with some newspaper, and after draining off the water, we dump the contents of the pot across the table. Everyone crowds around it and we all eat until the table is empty. We do this twice a year in the summer, more for special occasions like weddings and reunions. Most of us will make up any excuse to have a shrimp boil!
This recipe makes enough for between 4 to 6 people, depending on your portion sizes. My family tends to eat closer to half a pound per person, so this recipe is enough for myself, my partner, and my three kiddos. You can quickly ramp this recipe up for a crowd, just make sure you have enough water to cover everything in the pot or else the shrimp will cook unevenly. The shrimp out of the water will take longer to steam than those in the water, which will cause some of them to be rubbery. That's no good.
When we do a shrimp boil, we also get responsibly sourced shrimp that still has the shell on, but the heads removed. It's preference really, you can choose to get whole shrimp or peeled and deveined shrimp. You can even get crawfish if you want a genuinely cajun experience.
Another great tip before we get started is to remember to check your shrimp to make sure that you haven't gotten any spoiled shrimp. It doesn't sound fun, but it's a necessary step. Even when we get our shrimp fresh, sometimes, we might get one or two that could be bad. Also, if we get ten pounds of shrimp and the process feel insane, we always check. The freshest shrimp will be sort of folded over on itself. If you have ever had shrimp, you know what I'm talking about. Most people don't know, however, that the straighter the shrimp is, the more risk you have in eating it. If the shrimp is straight, or nearly so, it's best to get rid of it before cooking.
Classic Shrimp Boil
Serves 4 to 6 people
Prep time: 10 minutes
Cook time: 25 minutes
Ingredients:
2 lbs of shrimp (we use head off, shell on, but again this is your preference)
6 medium red potatoes
2 to 3 ears of corn on the cob, shucked and cut into thirds
2 onions, quartered
1 lb of andouille sausage
1 bag of Old Bay seasoning
2 tsp Cayenne pepper (optional)
Tony Chachere's Cajun seasoning to taste (optional)
Your favorite seafood dipping sauce (optional)
Directions
Boil 4 quarts of water in a stockpot with your choice of seasonings. The cayenne will add heat, and the cajun seasoning will add heat and more flavor, but if you aren't sure you like cajun seasoning, you might want to hold off.

Once it comes to a boil, add the potatoes and onions to the water. Boil for about 7 to 8 minutes.

After that time, add the sausage to the mix and boil for 5 minutes more.

Add the corn and boil for 8 more minutes.

Finally, add the shrimp. Boil for about 5 more minutes or until the shrimp are completely pink and opaque. 

Remove from heat and drain the liquid off. Dump contents onto newspaper in the center of your table and eat it with your hands. Add extra cajun seasoning if desired. 
Summary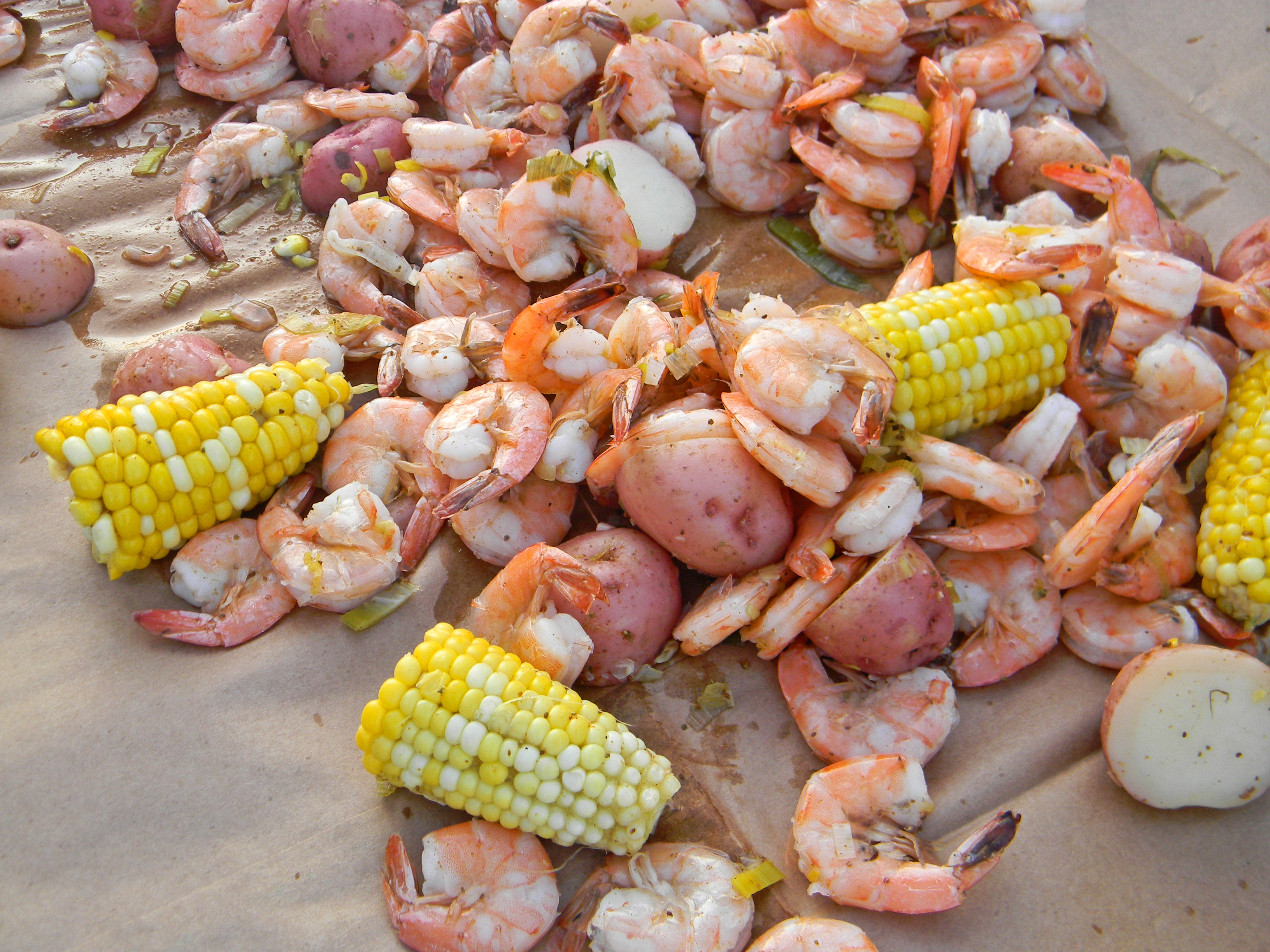 Recipe Name
Classic Southern Shrimp Boil
Published On
Preparation Time
Cook Time
Total Time