In the past few decades, becoming more aware of our environment, treating the earth more respectfully, and leaving a "smaller footprint" have been very important issues. The government even gives incentives to homeowners and business owners who take steps to make their properties more energy efficient, producing less waste, and stepping up their recycling efforts. If you are interested in making your home "greener," here are some tips on the best ways to invest your money and become more environmentally conscious.
Video Overview
1. Stop Throwing Money out the Window
You may be surprised to learn that warm or cool air (depending on the season) is escaping through your windows. If you live in an older home with its original windows, you could be spending hundreds of extra dollars each year trying to heat or cool your home. Replacing older windows with newer, energy efficient ones will not only save you money, but will also add value to your home when you decide to sell it.
Recently, Greg Martineau Projects, a company that specializes in window repairs Calgary, Canada based, reported how high performance energy efficient windows can provide protection against Calgary's harshest winters, thus increasing the homes energy savings.
2. Update your Kitchen Affordably
Did you know that people who are searching for new homes place more value on the condition of kitchens and bathrooms than other rooms in the house? Even if you are not considering selling your home in the near future, investing money in kitchen renovations is a wise way to update the appearance as well as functionality. Depending on your budget, simply changing out the faucets and cabinet door handles can make a huge difference aesthetically as well as functionally. An added benefit is that if your current faucet is leaky, replacing it with a new one will have a positive impact on your water bill and save environmental resources.
3. Update your Bathroom
As noted above, kitchens and bathrooms are important to prospective homebuyers. Updating fixtures, faucets, and even sinks and toilets that are in less than optimal working order, can save you money in the long run. They are also much nicer to look at and use for everyone in the house.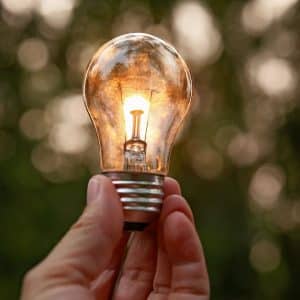 4. Replace your Lights
Today, you can buy brighter, longer-lasting, energy efficient light bulbs for every room in your home. Imagine the savings you will see on your electric bill when you change out all the bulbs in your house for new, improved illuminations. Plus, because the bulbs last longer than the older, traditional ones, you won't be spending money replacing them every few months.
5. Paint the Walls
After you've been living in a house for a while, and especially if you have children or pets, the walls get marked up, dented, and dirty. Choosing a contemporary paint color and finish for the particular room (matte finish for bedrooms and living rooms, glossier finish for bathrooms and trim) can make your home look fresh, clean and new again. And, paint is such a small financial investment you'll be able to transform more than one room without breaking the bank.
If you want to create a smaller footprint at your house, making some small changes can go a long way toward saving energy and resources. Don't be overwhelmed by what may seem like a daunting, financially draining task. If you follow these guidelines and start with one room at a time, you will achieve your long-term goals.
Lisa Coleman shares some great ways for a person to invest their money when home renovations are being considered. Greg Martineau Projects is a home renovations company that specializes in door upgrades, siding renovations and window repairs Calgary, Canada based that can help save a bundle through energy savings while helping add to the value of the home.