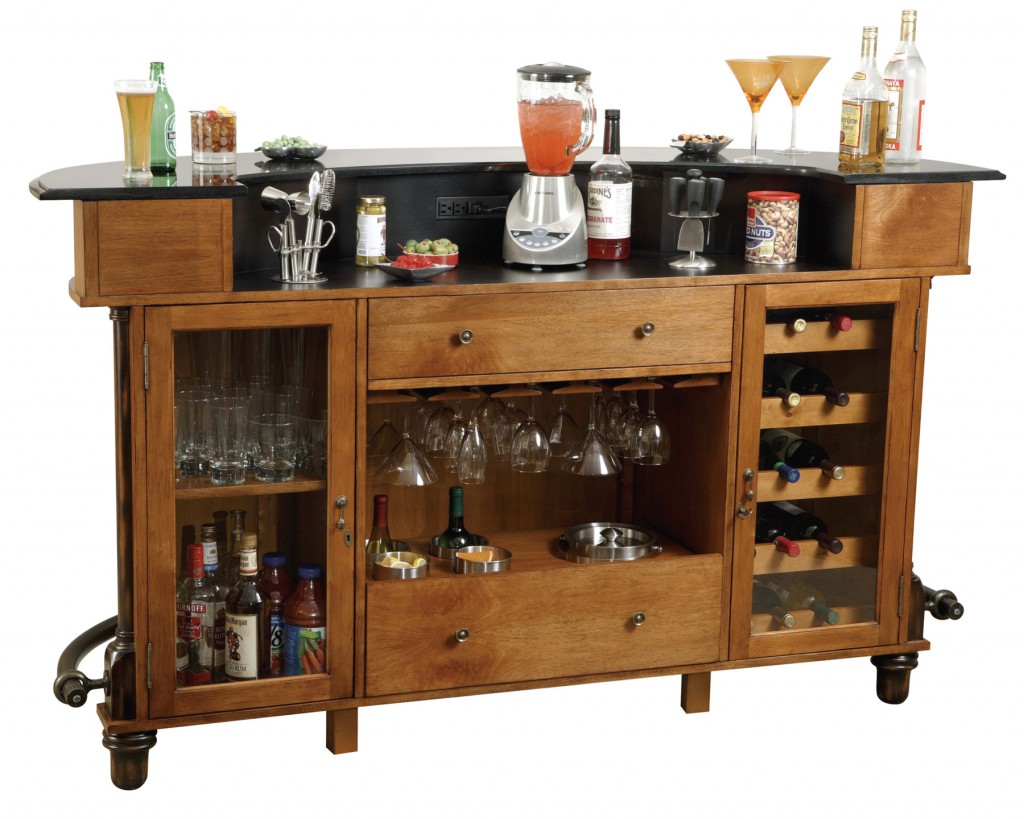 There are many home bar products available, and you don't have to be a master carpenter or professional handyman to realize the dream of having a bar in your home. When you consider the high price of lumber and the value of your time, it might be more cost-effective to simply buy the components you want than to attempt construction of a personal pub.
We all know that intelligent, well-thought-out purchases come from proper planning, so here are some things to consider before you whip out that credit card:
1. Guesstimate Guest Appearances. Figure out the maximum amount of people you are hoping to accommodate with your bar. Will it be a hangout for a few family members and friends, or are you planning on some seriously large-scale entertaining? You'll need to buy an appropriately-sized bar with adequate seating for the number you're hoping to have over.
2. Permanent or Portable? The next thing you need to decide is whether you want a bar that can be pushed, such as one on rollers, or if you would prefer a structure that stays put. The obvious benefit to a portable structure is that if you ever change your mind about where you've set up shop, you can easily move it. But a heavier, harder-to-budge bar offers more sturdiness and stability.
3. Location, Location, Location. You probably have a general idea of where you'd like to have a bar, be it your basement, family room, or perhaps you're hoping to turn that unusual A-frame attic room into a place to escape the day's stresses with an adult beverage or four. Now is the time to get specific, make a final decision, and pick the perfect party place.
4. Delicious Draft. Nope, not the beer kind… but you'll get there, don't worry. We're talking about the "floor plan" kind of draft right now, as in using a pencil and paper to draft where the actual bar, tables, seating, beverage coolers, kegerators, television screens, and any décor will go. Before you purchase the components for a home bar, it's important to take measurements and make sure all furniture will fit in the space comfortably.
Some details to consider:
Will it be a wet bar or a dry bar?
If wet, there will be plumbing lines and drains to include in your design, and you might also consider installing a convenient ice machine.
Will the bar be big enough to offer storage underneath, or will you be installing shelving or cabinets on the wall behind?
Will your bar have a roof or upper structure to allow for more storage, such as hanging glasses?
How big do you want to go with your beverage storing abilities? Decide if you'll use one big refrigeration system, or if you'd rather break up your beverages into smaller groupings via kegerator, wine cooler, etc.
5. Helping Hands. You may have decided against building the bar yourself, but that doesn't mean your already-assembled parts are going to be easy to lift and move. Don't be a hero with a strained back; ask the friends and family who will be reaping the rewards of your home bar to come over and help you get the pieces into place. You'll all have the perfect spot to celebrate a hard day's work as soon as you're done.
You don't have to hire a contractor or break the bank to have a watering hole to call your very own. With proper planning, some smart shopping and a little help from your friends, you can easily make a stunning self-run saloon a reality.
Paul Gibson is a professional blogger that provides advice and information on the best home entertainment systems and services. He writes for Phoenix Unequaled Home Entertainment, the best Memphis home entertainment services and Memphis home security systems.