Stuffed peppers are a classic and comforting dish enjoyed in many cuisines around the world. The concept is simple but incredibly versatile: hollowed-out bell peppers are filled with a flavorful mixture, typically featuring a combination of ingredients like ground meat (such as beef or turkey), rice, vegetables, herbs, and spices. The peppers are then baked until tender, allowing the flavors to meld together beautifully.
One of the great things about stuffed peppers is the opportunity for customization. You can adapt the filling to suit your preferences and dietary restrictions. For a vegetarian option, you can use ingredients like quinoa, lentils, or tofu, while cheese and breadcrumbs can add a delightful crunch and creaminess. The choice of herbs and spices, ranging from basil and oregano to cumin and paprika, allows you to create a flavor profile that aligns with your taste.
Stuffed peppers are not only delicious but also visually appealing, with their vibrant colors and hearty portions. They make for a wholesome, one-dish meal that can be served as a family dinner or at gatherings. Whether you prefer a classic Italian-inspired version with ground beef and tomato sauce or a more exotic twist with Mediterranean or Mexican flavors, stuffed peppers are a satisfying and versatile dish that's sure to please a variety of palates.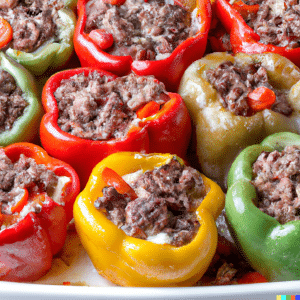 Stuffed Peppers
Stuffed peppers are a classic and satisfying dish that combines bell peppers filled with a flavorful mixture of ground meat (or a meat substitute for a vegetarian/vegan option), rice, vegetables, and seasonings.
Ingredients
4

large

bell peppers

any color

1

lb

ground beef or turkey

or a meat substitute for a vegetarian/vegan version

1

cup

cooked rice

white or brown

1

cup

diced tomatoes

canned or fresh

1/2

cup

diced onion

1/2

cup

diced celery

1/2

cup

diced carrots

2

cloves

garlic, minced

1

tsp

dried Italian seasoning

Salt and pepper to taste
Instructions
Preheat your oven to 375°F (190°C).

Start by preparing the bell peppers. Cut the tops off the peppers and remove the seeds and membranes from the inside. Rinse them under cold water.

In a large skillet, cook the ground meat(or meat substitute) over medium heat until it's browned and cooked through. Break it into small pieces as it cooks. If using meat, drain any excess fat.

In the same skillet, add the diced onion, celery, carrots, and minced garlic. Sauté for about 5 minutes, or until the vegetables begin to soften.

Add the cooked rice, diced tomatoes, Italian seasoning, salt, and black pepper to the skillet. Mix everything together and cook for another 2-3 minutes to blend the flavors.

Stuff each bell pepper with the meat and rice mixture, packing it in firmly. Place the stuffed peppers in a baking dish.

In a small bowl, mix together the ingredients for the tomato sauce: tomato sauce, dried basil, dried oregano, garlic powder, salt, and black pepper.

Pour the tomato sauce evenly over the stuffed peppers.

Cover the baking dish with foil and bake in the preheated oven for 35-40 minutes, or until the peppers are tender. Remove the foil for the last 5-10 minutes of baking to allow the tops to brown slightly.

Once the stuffed peppers are cooked, remove them from the oven and let them cool for a few minutes before serving.
Serve the stuffed peppers with a drizzle of tomato sauce from the baking dish and garnish with fresh herbs if desired. Enjoy your delicious and hearty stuffed peppers!