Chipotle salmon is a delectable and flavorful dish that combines the smoky and spicy notes of chipotle peppers with the delicate, buttery richness of salmon. This fusion of ingredients creates a harmonious marriage of flavors that is both satisfying and mouthwatering. To prepare chipotle salmon, a chipotle pepper-based sauce is typically used as a marinade or glaze, infusing the salmon with a delightful combination of heat and smokiness.
The chipotle pepper, a smoked and dried jalapeño, provides a distinctive smoky flavor and a pleasant kick of spiciness to the salmon. The sauce often includes a mix of other ingredients like garlic, lime juice, honey, and various spices to balance and enhance the overall taste. When the salmon is marinated in this flavorful sauce and then cooked, it absorbs the smoky-spicy essence, resulting in a dish that is not only visually appealing but also incredibly delicious.
Chipotle salmon can be prepared in various ways, such as grilling, baking, or pan-searing, making it a versatile choice for both home cooks and restaurant menus. Whether served as a main course alongside vegetables and rice or flaked and used in tacos or salads, chipotle salmon is a delightful culinary experience that showcases the magic of combining bold and contrasting flavors.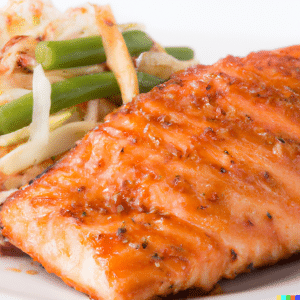 Chipotle Salmon
Chipotlesalmon is a spicy and flavorful dish that combines the smoky heat of chipotle peppers with the rich and tender texture of salmon. This recipe features a simple marinade made with chipotle peppers in adobo sauce, honey, lime juice, and garlic, creating a perfect balance of sweet and spicy flavors.
Ingredients
4

salmon fillets

6-8 oz each

2

chipotle peppers in adobo sauce

adjust for spiciness

2

tbsp

honey

2

tbsp

lime juice

about 1 lime

2

cloves

garlic

1

tsp

ground cumin

1/2

tsp

smoked paprika

Salt and pepper to taste

Lime wedges and fresh cilantro for garnish

optional
Instructions
In a blender or food processor, combine the chipotle peppers, honey, lime juice, minced garlic, ground cumin, smoked paprika, salt, and black pepper. Blend until you have a smooth and well-mixed marinade.

Place the salmon fillets in a shallow dish or a large resealable plastic bag. Pour the chipotle marinade over the salmon, making sure each fillet is evenly coated. Seal the bag or cover the dish and refrigerate for at least 30 minutes, or up to 2 hours. The longer you marinate, the more intense the flavors will be.

Preheat your grill to medium-high heat (about 400-450°F or 200-230°C). Clean and oil the grill grates to prevent sticking.

Remove the salmon from the marinade, letting any excess drip off. Discard the marinade.

Place the salmon fillets on the preheated grill, skin side down. Grill for about 5-7 minutes on each side, or until the salmon is cooked to your desired level of doneness. The salmon should easily flake with a fork when done.

While grilling, you can baste the salmon with any leftover marinade for extra flavor.

Once the salmon is done, remove it from the grill and transfer it to a serving platter.

Garnish with lime wedges and fresh cilantro, if desired, and serve hot.
Chipotle salmon is a mouthwatering dish perfect for a weeknight dinner or a special occasion when you want to impress your guests with a delicious and slightly spicy seafood dish. Enjoy!