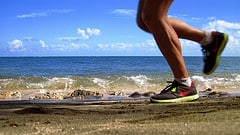 As the weather begins to warm up, it is natural for people to decide to head outside without being in a car. Jogging, walking and bicycling will increase with each passing day, and participating in these activities can be both fun and good for your health. However, it is necessary to keep in mind that there will still be people driving cars around you, and it is very easy to get into an accident. In fact, more than 4,200 people were killed while they were walking in 2010, and this statistic does not include individuals who were on a bicycle.
Other common activities that become more popular during the spring and summer include motorcycle riding and attending local carnivals. Both of these activities can also lead to a very enjoyable spring day, but any of the best personal injury lawyers will tell you, it is important to recognize the fact that there is danger involved.
Tips for Staying Safe
In order to avoid ending up as an accident statistic, you should always utilize the following tips.
1. Use the Sidewalk – If you are walking or jogging, you should stick to areas that have a pedestrian walkway.
2. Turn off Your iPod at Intersections – Even if you rely on music to keep you going during a workout, you need to hit pause as you approach an intersection so that you can listen for honking horns.
3. Do a Visual Inspection – Your motorcycle and bicycle need to be kept in good condition, so you should do a visual safety inspection on a regular basis. It is also a good idea to visually inspect any carnival rides before you get on them.
4. Avoid the Dark – Most accidents with pedestrians and bicyclists occur at night, so if you must go out after dark, be sure to use reflective clothing or a bike light.
5. Use Hand Signals – In addition to using the built-in turn signals on your motorcycle, you should also consider using hand signals to attract extra attention.
If you are involved in an accident that was caused by another person's negligence, it is important to quickly contact a good personal injury lawyer to protect your legal rights. After all, each state has its own statute of limitations for these cases, and it would be very unfortunate to end up paying for all of your own medical bills if you were not at fault.
Legal researcher Shelby Warden shared this article to raise awareness of potential safety issues for spring. The Perecman Law Firm has some of the best personal injury lawyers in New York. For over 30 years they have been helping injured clients re-build their lives by getting them the money they need for medical treatment, lost earnings, pain and suffering and any other expenses they are entitled to.