Trader Joe's Mandarin Vegan Orange Chicken …VEGAN?!
Do you need to try Trader Joe's Mandarin Orange Chicken? Is it worth it? Well, the short answer is YES. Now, as many of you may know, some of those fake meat packages are pretty poor tasting! I'd even call them disgusting and non-food like but this…this is different. For me to even consider doing a review, something has to either be really bad or really good and this my friends is really freaking good! Like, really freaking good. If I had to put together a vegetarian starter pack, this would be in it!
Does the smell of or does your sweet memories of eating Panda Express orange chicken have you rethinking your vegetarian diet from time to time? Or maybe it just causes you to shed a few tears on a daily basis? Lol, well dry your tears and head to Trader Joe's for something that will make you forget there was ever a problem to start with. And honestly, this Trader Joe's Mandarin Vegan Orange Chicken is better… YA! I said it…better!
So my husband bought about 12 packages and there they sat in our freezer for a couple weeks until one day I decided to try it and then I wanted one per day forever because I had become obsessed! This vegan orange chicken meal is super-duper satisfying! Keep in mind though, you shouldn't eat this every day (although you will want to!-). It's not exactly clean eating but once in a while, it's great!
Here's How I Prepared My Vegan Orange Chicken!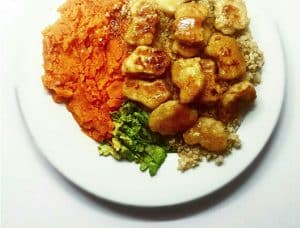 Steam 1 cup of quinoa.
Steam 1 orange sweet potato.
1-2 tbsp. in a frying pan.
On medium heat, cook for about 8 min. then on high until the skin is darkened. The crispier, the better.
Put a scoop of the quinoa on your plate and top with the Trader Joe's Mandarin Orange Chicken and then pour the sauce packet over it (best part). Then smash up some sides of sweet potato and avocado! YUM!
Enjoy!
This is a great meal to use as a cheat-meal or make a ton for a big group of friends! What's even better, is to serve the Trader Joe's Mandarin Vegan Orange Chicken up for your vegetarian-skeptical friends! As a result, your friends may start rethinking their diet too! ;p
For more vegan recipes click here and here!
Another Option for Vegan Orange Chicken!
If the above processed fake meat version doesn't satisfy your vegan orange chicken craving, well, I found another option that is genius from another vegan food blogger by the name of Chuck Underwood. Chuck has a blog called, "Brand New Vegan" and it's about recreating all of your favorite comfort foods into vegan dishes! My kinda thang! So I am going to put his vegan orange chicken recipe below as well as add the link to his recipe! This vegan orange chicken recipe is SO delicious! Bravo, Chuck. Bravo!
Chuck's Vegan Orange Chicken Recipe Ingredients:
1

 

head

 

Cauliflower

 

(small)

8

 

oz

 

Mushrooms

1

 

Red Bell Pepper

1

 

bunch

 

Green Onions

 

(sliced into 1″ pieces)

Steamed Brown Rice
The Batter
1

 

cup

 

Flour

1

 

cup

 

Unsweetened Almond Milk

2

 

tsp

 

Garlic Powder

1/4

 

tsp

 

Salt

1/4

 

tsp

 

Ground Pepper
The Sauce
1/2

 

cup

 

Vegetable Broth

 

(low sodium)

1/3 

cup

 

Rice Wine Vinegar

1/4

 

cup

 

Brown Sugar

1/4

 

cup

 

Soy Sauce

 

(low sodium)

2

 

Tbs

 

Orange Juice

2

 

Tbs

 

Maple Syrup

1

 

tsp

 

Orange Zest

1/4

 

tsp

 

Garlic Powder

1/4

 

tsp

 

Ground Ginger

2

 

Tbs

 

Cold Water

1

 

Tbs

 

Arrowroot Powder

 

(or Cornstarch)
Chuck's Vegan Orange Chicken Recipe Directions:
Prepare rice as directed.

Preheat oven to 450 degrees.

Wash and cut a small head of cauliflower into bite-sized chunks.

Prepare batter in a large bowl and dip cauliflower pieces in batter until completely covered

Place the cauliflower pieces on a parchment-lined cookie sheet and bake for 20 minutes

Place all sauce ingredients except arrowroot and water in a medium-sized saucepan and bring to a simmer.

Mix arrowroot and water to make a slurry and add to sauce to thicken

Add mushrooms to a Wok or large pan and stir fry in a little veggie broth until softened

Add red bell pepper and green onions and continue to stir-fry until softened

When the cauliflower pieces are baked, stir them into the stir-fry and add sauce.

Stir well until everything is completely coated and simmer for a few minutes until heated through.
Enjoy!
Summary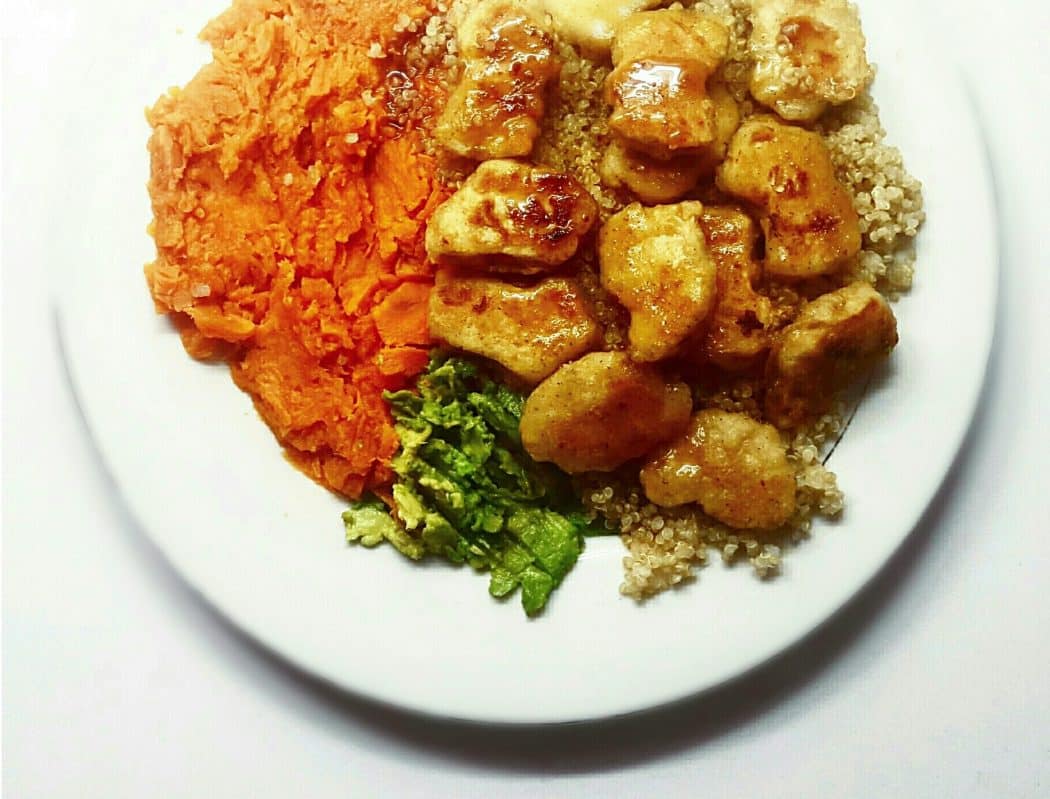 Recipe Name
Trader Joe's Mandarin Vegan Orange Chicken
Published On
Preparation Time
Cook Time
Total Time
Average Rating





Based on 2 Review(s)