Vegan Lentil Soup
This Organic Vegan Lentil Soup recipe is nut free, soy free, gluten free, meat free & dairy free. Hard? No way, just don't quit all of the diet restrictions cold turkey and all at once. Take your time and find the diet that works best for you! Believe you me, you can be a very unhealthy vegetarian, vegan….and so on. Make sure your body is getting what it needs and try to stay away from things that nutritionally aren't good for you. It took me years to find a healthy balance!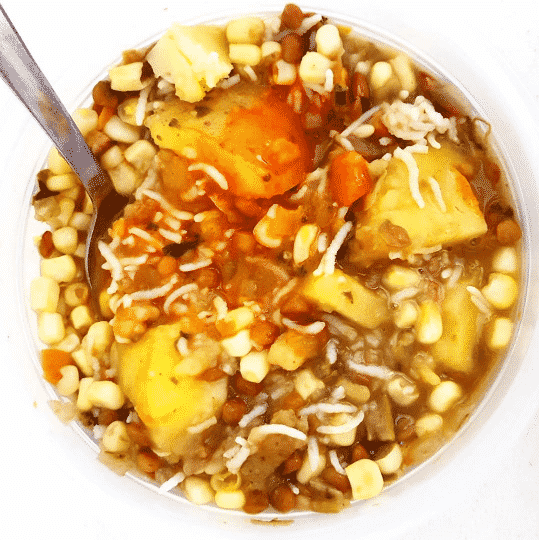 This Organic Vegan Lentil Soup is ahh-maze-ing when you're sick… or if you are in any kind of cold weather… or for any-dang-time. This is one of those wonderful vegan meals that anyone can enjoy because it's super thick, filling and nutritionally satisfying. Your body will check off all of the things it needs so your friend who can't live without meat won't even notice that it's vegan. Sometimes I like those fancy, light, little vegan meals that cost too much but when I personally cook for others, I like to serve hearty vegan food that anyone could love.
Organic Vegan Lentil Soup Ingredients:
1 small onion, minced
1 clove garlic, minced
2 golden potatoes, chopped in to large pieces
2 carrots, chopped
1 cup lentils (whatever kind you want!)
1 stalk celery, chopped
1 15 ounce (or close to that amt.) can of diced tomatoes
1 10 oz. can of tomato puree
5 cups of veggie broth or water *Note, if you save the water from when you steam veggies, then you don't have to buy veggie broth!
1 cup finely chopped spinach
1 bay leaf
Add for taste before serving:
Mix with the Vegan Lentil Soup ingredients:
Sweet Corn
Basmati Rice
Vegan Lentil Soup
Vegan Lentil Soup
Vegan Lentil Soup Slow Cooker Instructions:
Dry sauté the garlic and onion ingredients (add a tad of water if you prefer).
Put the sautéed ingredients and all the other soup ingredients, except spinach into your slow cooker. Cook on low 5 to 7 hours.
Steam 1 cup of rice about 20 min before soup is done.
Steam sweet corn about 2 minutes before soup is done.
Add spinach to the soup in the slow cooker 5 min before it's done.
Once soup is done, add salt and pepper for taste.
Serve a bowl starting with some rice, soup and corn.
Mix together, add your favorite vegan hot sauce and enjoy!
After getting a stomach bug I ate this for breakfast lunch and dinner for days until I was better, it was the only thing I could stomach. The Vegan Lentil Soup helped me keep my strength up too, I have three kids…ain't nobody got time to be sick around here! 😉
Have you tried this, was it delicious? Let us know, tag me in your Instagram picture of your meal 😉 @jessicafeigner or comment below!
Summary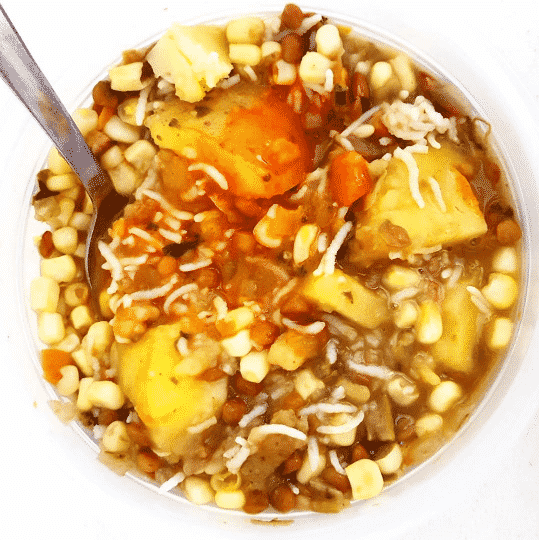 Recipe Name
Published On
Preparation Time
Cook Time
Total Time
Average Rating





Based on 2 Review(s)