We have visited states A-M and learned about some amazing getaway trails you can take in each of those states. Let's take a trip on the other side of the alphabet to learn about the rest of our states and what beautiful vistas we still have in store.
27. Nebraska -Toadstool Geologic Park. Experts rate this 3 mile hike as "out of this world." Along this trail you can see what is called the moonscape of the badlands filled with perfectly preserved fossils
28. Nevada – Boundary Peak is the highest point in the state and sit on the border of California and Nevada. However, it will take a serious hiker to make it to the top as this is one of the most strenuous hikes on our list.
29. New Hampshire – Franconia Ridge. This easily make the list of best hikes in New England, it ascends along the Falling Waters trail before it makes the summit of Little Haystack. From here you can see some of the most iconic views and is one of the best getaway trails for a view of the White Mountains.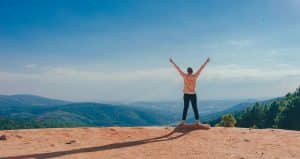 30. New Jersey – Mt Tammany is a steep hike that allows you a wonderful view of the Delaware Water Gap.
31. New Mexico -Wheeler Peak. This is considered one of the most stunning views in all of New Mexico as it is  situated in a beautiful alpine  forest with 360 degree views and gazes down on Williams Lake.
32. New York – Jay Mountain – Located in Adirondack Park in New York this mountain is known as the Highway in the Sky.  It is 8 miles round trip from the floor to the summit and offers beautiful views of the surrounding area.
33. North Carolina – Mt. Mitchell. This spot is the highest of the Appalachian mountain range and one of the most beautiful trails in the state.
34. North Dakota – White Butte. This state has some unique landscapes and White Butte is one of them. Check it out for a unique trip you won't forget.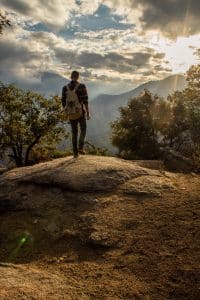 35. Ohio- Lamping Homestead Trail. This trail gives you a bit of history combined with nature as you pass through the family's 1800's cemetery on this trail.
36.Ooooklahoma – Black Mesa. You can't help but sing this state. The trail we have chosen is great for our list of getaway trails because of the stunning views. It can also be a great sunning spot for Rattlesnakes, so keep your eyes open.
37. Oregon -Waterfall Loop. Set your eyes on this and you will never want to return home. ""This wonderful trail allows hikers to access the incredible Sahalie and Koosah Falls from both sides of the river. Because of the stunning scenery, huge waterfalls and gorgeous pacific northwest hardwood forest, this may possibly be the most beautiful trail in the United States."
38. Pennsylvania – Glenn Okono Falls – A picture perfect location, these falls create an idyllic spot for a picnic lunch or an easy afternoon stroll. This is one of the more beautiful and peaceful getaway trials on the list.
39. Rhode Island – "Beavertail State Park is at the southern tip of Jamestown and with coastal views facing both east and west it is a great place to catch a sunrise or a sunset. It's a small park, but you'll love the dirt trails that run along the rocky coast. There are many places where you can climb down onto the large rocks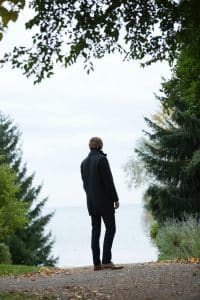 for amazing views."
40. South Carolina – Pinnacle Pass/Rim of the Gap Loop. Easily the most challenging hike in the state, this 11.5 mile hike climbs through a wilderness area and offers magnificent views.
41. South Dakota – Little Devil's Tower. In the Black Hills, this tower is the highest point east of the rocky mountains and offers a 360 view of the needles and marvelous views of the back side of Mt. Rushmore.
42. Tennessee – Charlie's Bunion. This hike may not seem too "appetizing" to any interested parties, but it offers the best views you will see of the Smoky Mountains anywhere in the park.
43. Texas – South Rim Trail. This one is found in Big Bend National Park. It will take a full day at 13.0 miles. The views are to the south, so you can see Mexico if you are lucky.
44. Utah – Angel's Landing -Having lived in Utah for nearly 15 years and being an avid hiker myself I am a little disappointed to tell you that I have not yet made this trek. The view from the top is of Zion National Park and and is one of the most recognizable and memorable sites in this country.
45. Vermont – Sunset Ridge. Like the name implies, this 5.5 mile hike takes you to the Highest peak in Vermont and has magnificent views of the Green Mountains at Sunset.
46. Virginia – Old Rag. Shenandoah National Park is easily one of the most beautiful spots in the east. Songs were written about the mountains and this 8 miler is one of the most popular hikes in the area.
47. Washington – Park Butte. Found in the Cascades this hike is just one of many getaway trails to get your adventure on in the great state of Washington.
48. West Virginia – Raven Rock Trail. West Virginia has beauty unrivaled with this Raven Rock overlook. This vista is iconic to travelers of this marvelous state.
49. Wisconsin – Lost Creek Falls. Not many hikes would be called relaxing, but this one is. This 2  mile "leisurely stroll" allows you to view these small, but spectacular falls in their full beauty.
50. Wyoming – Cascade Canyon. Yellow Stone and Grand Teton National Park call this state home, so you can be sure there are plenty of hikes to entertain.
If you can't find something in this list to keep your active and entertained, check out the full list of hikes for each state here.