Vegetable fried rice is a beloved Asian-inspired dish that's both delicious and versatile. This recipe transforms plain cooked rice into a flavorful and satisfying meal by stir-frying it with an assortment of colorful vegetables and aromatic seasonings. It's a go-to choice for a quick and wholesome weeknight dinner or a tasty way to repurpose leftover rice.
One of the appealing aspects of vegetable fried rice is its adaptability. You can use a variety of vegetables such as carrots, peas, bell peppers, and broccoli, making it an excellent option for using up whatever you have in your fridge. The dish comes to life with the addition of garlic, ginger, and soy sauce, infusing it with savory and umami flavors.
Vegetable fried rice is incredibly customizable. You can include tofu, tempeh, or even scrambled eggs for extra protein, and garnish it with green onions, sesame seeds, or cilantro to add freshness and texture. This dish is a testament to the beauty of simple yet flavorful cooking, and it's perfect for anyone seeking a quick, balanced, and satisfying meal with an international flair.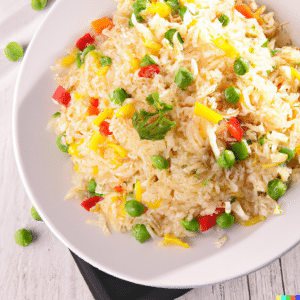 Vegetable Fried Rice
VegetableFried Rice is a quick and flavorful dish that's perfect for using up left-over rice and a medley of fresh vegetables. This recipe combines tender-crisp veggies, aromatic garlic, and savory soy sauce for a delightful, satisfying meal.
Ingredients
2

cups

cooked and cooled rice

preferably day-old rice

2

tbsp

vegetable oil

1

small onion

2

cloves

garlic, minced

1

cup

mixed vegetables, chopped

carrots, peas, bell peppers, broccoli

2

tbsp

soy sauce

or to taste

1

tsp

sesame oil

optional, for extra flavor

2

green onions (scallions), chopped

Salt and pepper to taste

2

large eggs

optional, for non-vegan version

Fresh cilantro or parsley for garnish

optional
Instructions
Heat 1 tablespoon of vegetable oil in a large skillet or wok over medium-high heat.

If using eggs, whisk them in a bowl and add them to the hot skillet. Scramble them until they're fully cooked but still slightly moist. Remove the scrambled eggs from the skillet and set them aside.

In the same skillet, add the remaining 1 tablespoon of vegetable oil. Add the chopped onion and sauté for 2-3 minutes until it becomes translucent.

Stir in the minced garlic and cook for another 30 seconds until fragrant.

Add the mixed vegetables to the skillet. Stir-fry for 3-5 minutes until they are tender-crisp.

Add the cooked and cooled rice to the skillet. Break up any clumps and stir-fry for 3-4 minutes until the rice is heated through and starts to turn slightly crispy.

Drizzle the soy sauce (and sesame oil, if using) over the rice and vegetables. Stir to combine evenly.

If you're using the scrambled eggs, return them to the skillet and stir them into the rice mixture.

Season with salt and black pepper to taste. Adjust the soy sauce and other seasonings as needed.

Add the chopped green onions and stir to incorporate them into the fried rice.

Once everything is heated through, remove the skillet from the heat.

Serve the Vegetable Fried Rice hot, garnished with fresh cilantro or parsley if desired.
Enjoy this delicious and customizable Vegetable Fried Rice as a quick and satisfying meal. It's a versatile dish that can be adapted to your preferences with different veggies or protein additions like tofu or tempeh.