Creamy Italian chicken is a beloved and comforting Italian-inspired dish that delights taste buds with its rich and creamy flavors. This classic recipe typically features tender chicken breasts cooked to perfection in a luscious and aromatic tomato cream sauce infused with a medley of Italian herbs and spices. The result is a harmonious marriage of savory and slightly sweet notes, making it a beloved choice for a hearty meal.
One of the charms of creamy Italian chicken is its versatility. It pairs wonderfully with various sides like pasta, rice, or mashed potatoes, allowing you to customize your meal according to your preferences. The creamy tomato sauce is often enriched with heavy cream and grated Parmesan cheese, contributing to its luxurious texture and richness.
Whether enjoyed as a family dinner or prepared for special occasions, creamy Italian chicken is a crowd-pleaser that showcases the culinary excellence of Italian cuisine. It's a dish that offers both comfort and sophistication, proving that sometimes the simplest recipes are the most cherished.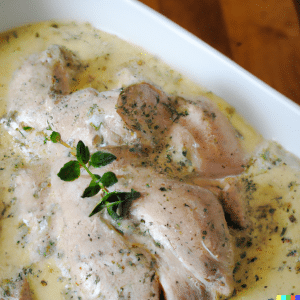 Creamy Italian Chicken
CreamyItalian Chicken is a classic Italian-inspired dish that's both comforting and indulgent. Tender chicken breasts are cooked in a rich and creamy tomato sauce infused with aromatic Italian herbs and spices.
Ingredients
4

boneless, skinless chicken breasts

Salt and pepper to taste

2

tbsp

olive oil

1

onion, finely chopped

3

cloves

garlic, minced

1

14 oz can

diced tomatoes

1

tsp

dried oregano

1

tsp

dried basil

1/2

tsp

dried thyme

1/2

tsp

dried rosemary

1/2

cup

heavy cream

1/4

cup

grated Parmesan cheese

Fresh basil leaves for garnish

optional
Instructions
Season the chicken breasts with salt and black pepper on both sides.

In a large skillet, heat the olive oil over medium-high heat. Add the chicken breasts and cook for 4-5 minutes per side, or until they are golden brown and cooked through. Remove the chicken from the skillet and set it aside on a plate.

In the same skillet, add the chopped onion and sauté for 2-3 minutes until it becomes translucent.

Add the minced garlic to the skillet and sauté for another 30 seconds until fragrant.

Pour in the diced tomatoes (with their juice) and add the dried oregano, dried basil, dried thyme, and dried rosemary. Stir to combine.

Reduce the heat to low and return the cooked chicken breasts to the skillet. Cover them with the tomato mixture.

Pour in the heavy cream and sprinkle the grated Parmesan cheese over the top.

Cover the skillet and simmer for 10-15 minutes, allowing the flavors to meld and the sauce to thicken.

Check the seasoning and adjust the salt and pepper if needed.

Garnish with fresh basil leaves just before serving, if desired.

Serve the Creamy Italian Chicken hot over cooked pasta, rice, or with crusty bread to soak up the delicious sauce.
Enjoy this Creamy Italian Chicken dish with its rich, creamy tomato sauce infused with Italian herbs and flavors. It's a crowd-pleaser that's perfect for a comforting family dinner or special occasion.