The arrival of winter means many long and cool nights and short, freezing days. How can you stay warm and dry, and still look fashionable in your day-to-day (and evening) wear? The answer is simple, and affordable: wear thermals. Thermal underwear is an often overlooked but essential part of keeping yourself warm through the long winter nights and short days. What should you look for when you start shopping for thermals? Read on for advice on choosing the right thermal underwear for you: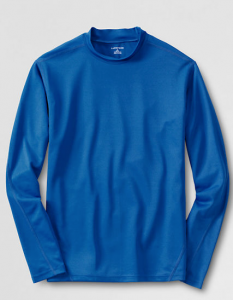 – Choose the right weight for your activities. Thermal underwear come in three different weights: light, mid, and expedition weights. Lightweight underwear is best for aerobic activity (especially if you want to go skiing or snowboarding), or if you live in a milder climate like the West Coast. Midweight is best for those who do moderate activities or live in moderate climates. Expedition weight underwear works well for those who are not doing a lot of high-impact activities or live in really cold climates.
– Choose the right material for the right situation and climate. Thermal underwear comes in a few different fabrics. Thermal underwear can be made from natural materials like cotton or wool, or they can be made from synthetic materials like polypropylene, nylon, or polyester. Cotton or wool underwear will keep you warm, but they do not "wick" away sweat like the synthetic thermals do, which makes them perfect for casual, everyday wear. If you are planning on doing a lot of aerobic or physical activity, opt for synthetic thermals, which wick away sweat, and keep you dry on the ski slope. One note: thermals made from polypropylene have the reputation of becoming very stinky quickly. You can find great thermals at stores like Boscov's or Lands' End.
– Make sure you layer up. Your thermal underwear should not be your only guard against the cold. Depending on where you are, or what your activity is, you can add more layers on top to stay toasty. You can always remove layers if you get hot, but you might not always have access to more layers if you get cold. If you are going skiing or snowboarding, layer an expedition weight thermal underneath a sweater and ski jacket. You might want to opt for thermal pants as well, to keep your legs warm. You can find thermal pants at stores like Essential Apparel.
– Take care of your thermal underwear. Because thermal underwear is worn directly next to the skin, it is prone to sweat stains and yellowing. To prevent yellowing, spray stain remover onto sweat-prone areas such as the arm holes and neck sections of the underwear, regardless of whether the stains are visible or not, every time you toss them in the washer. Wash thermals with your other delicates in cold water and mild laundry detergent. If you use fabric softener, add that as well. Do not toss your thermals into the dryer. They will shrink and become misshapen. Instead, you should line dry your thermal underwear.
This post was written by Allison Preston. Allison is an avid shopper and an experienced writer with a passion for deals and coupons and for saving her readers money. She currently writes for leading coupon and online promo code site bluepromocode.com based in Santa Monica, California.